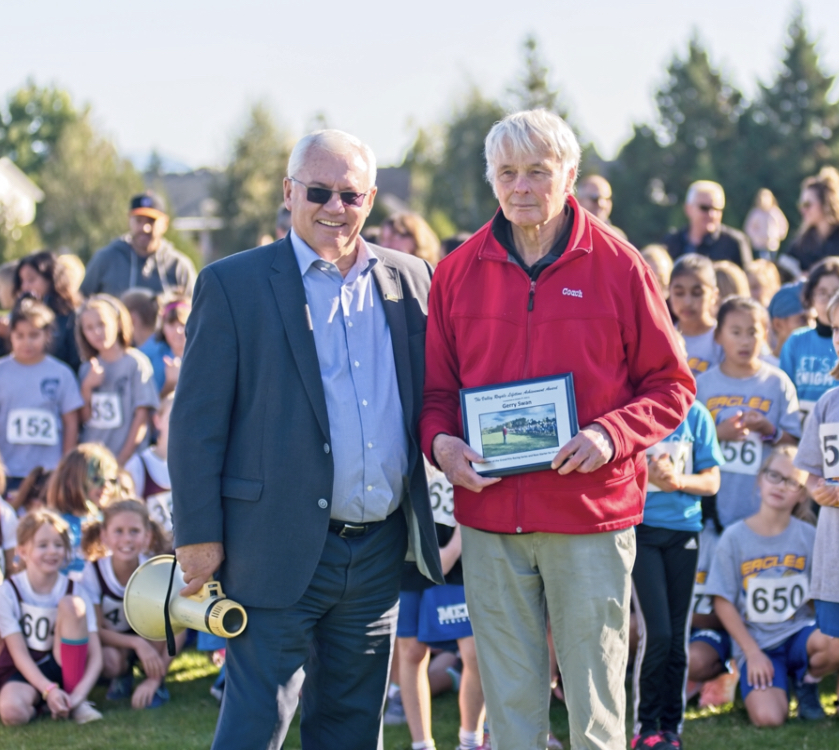 The final Grand Prix Race of 2019 shone brightly with a beautiful sunny day and a special occasion. October 9th, 2019 marked more than the completion of the Grand Prix Season. It was an occasion to celebrate the contributions and volunteer efforts of Mr. Gerry Swan.
At the final Grand Prix Race day for 2019, just before the start of the first race, Abbotsford Mayor Henry Braun presented Mr. Swan with "The Valley Royals Lifetime Achievement Award" as hundreds of students, teachers and parents cheered and applauded.
Mayor Braun, himself a former President of the Valley Royals Track & Field Club, spoke about Mr. Swan's long history of coaching and teaching. The Mayor was coached as an athlete by Mr. Swan as was his son and his grandson too. Mayor Braun spoke to recognize, honour and thank Mr. Swan for creating the Grand Prix Racing Series and for his 35 years of service starting the races.

In addition to founding the Valley Royals Track & Field club and coaching hundreds of athletes over the years, Mr. Swan has made a great investment in the development and health of children in the community. He and his wife Jane established the Grand Prix Racing Series in 1983 with the first races happening in 1984 at Centennial Park.

A 12-page thank you card for Mr. Swan was signed by athletes, their families and teachers at the finish line. The pages are filled with expressions of gratitude and appreciation. The Valley Royals express deepest thanks to Mr. Gerry Swan for all that he has done for the club and for the community as a whole.
On Wednesday October 16th, the Abbotsford News published an article about Gerry Swan and this special occasion: https://www.abbynews.com/sports/abbotsford-sports-legend-gerry-swan-earns-royals-lifetime-achievement-award/