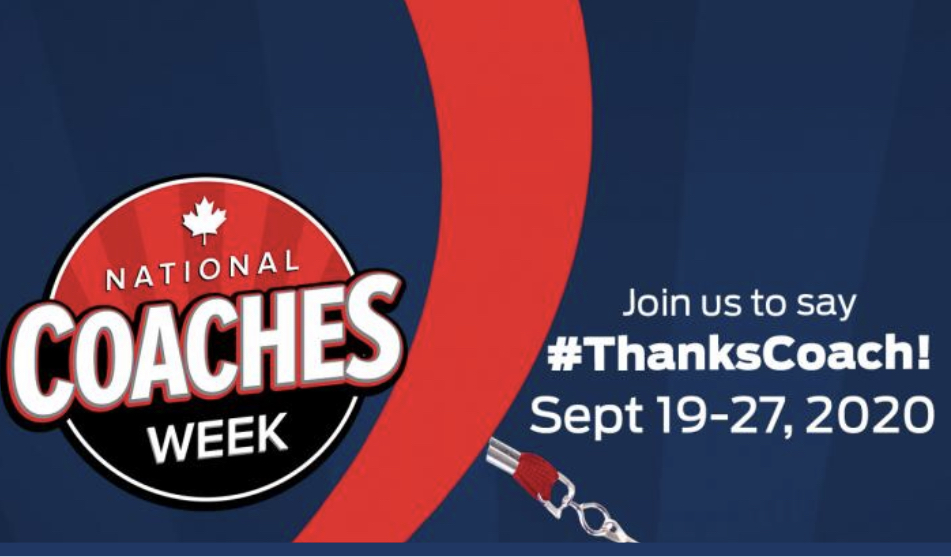 Sept 19-27th is #CoachesWeek in Canada! This week is an opportunity to recognize coaches for the integral role they play by saying #ThanksCoach.
In addition to thanking your coach in person and showing your appreciation in your #ThanksCoach posts this week, club members are encouraged to participate in Online contests by tagging BC Athletics, Athletics Canada & ViaSport in your #ThanksCoach posts.
Take a selfie with your coach for your post or feel free to use one of the images at the bottom of this post. Copy & paste or screenshot an image to use in your coach appreciation posts & remember to add #ThanksCoach and tag the three organizations mentioned above to get entered to win prizes in the Social Media Giveaway! (more details and links below…)
FREE Virtual Coach Training opportunities are being offered this week…
Athletics Canada's Online Store is giving a special discount this week on clothing purchases for coaches. (This includes clothing purchased as a gift to give your coach)…
Here are some details and links from BC Athletics' post:
SOCIAL MEDIA GIVEAWAY
Tag BC Athletics, Athletics Canada, and viaSport on your #ThanksCoach posts to be entered into a draw to win 3 contests! $500 for your coach and $500 for your club from viaSport, swag from BC Athletics, AND swag from Athletics Canada! Click here for more details.
FREE COURSES
For this week, you can take part in FREE virtual courses and conferences including:
Effective Coaching Strategies for the High Performance Coach
Ideal for coaches working with high performance athletes. This 3 part webinar series is led by Dr. SHaunna Taylor. Topics that will be covered include: leadership practices, mental performance and mental health, goal setting, stress management and much more. The first webinar is FREE as part of Coaches Week, Sept 30th, 7:00 – 8:00pm
Multi-Sport e-Learning Courses
Available at any time on the locker, and free during Coaches Week. Coaches must log into the locker to register. Don't have a locker account, sign up for one for free!
NCCP Coaching Athletes with a Disability

NCCP Making Headway in Sport

NCCP Emergency Action Plan

NCCP Safe Sport Training

NCCP Coach Initiation in Sport
Atlantic Virtual Conference Multi-Sport
Each evening from Sept 21-25th there will be three 25-30 min sessions on a variety of topics. The theme of the coaching conference is Safe Sport: Diversity and Inclusion. Register ASAP as space is limited.
DISCOUNTED ATHLETICS CANADA MERCHANDISE
Take 25% off at shop.athletics.ca by using the discount code THANKSCOACH
Thank You Royals Coaches! Photos of Coaches & Athletes This Week…