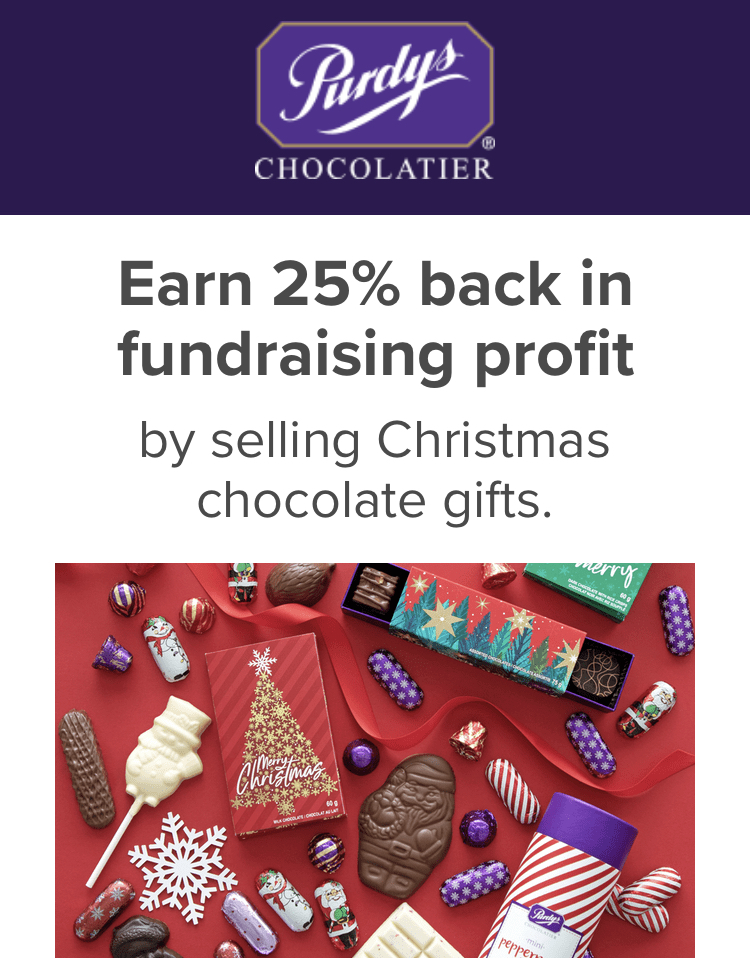 Our fundraising campaign is only 1 week long – Orders need to be placed Online by THIS Wednesday, November 25 for delivery on Saturday, December 5 (Pick Up at Rotary Stadium 10:30-12:30 – unless you need to make other arrangements with Maria)
BONUS: For every 80$ of product ordered, the athlete will earn 1 volunteer hour for 2020
The VALLEY ROYALS TRACK AND FIELD CLUB is fundraising with Purdys Chocolatier, just in time for Christmas! There are so many options and the pricing is the same as in the stores PLUS our club earns 25% on each order. Together, we can help the club to reach its fundraising goal of $1000 in sales!
If you'd like to support us through purchasing some very sweet Christmas Gifts for friends, family or yourself, please click the link below. From no sugar added (NSA), vegan options to the traditionally enjoyed flavours. Treat your teachers, coworkers, babysitters or the hard to find gift getters-grandparents!!!
Signing in takes only a minute and then you can buy our amazing chocolates AND invite others to join and SUPPORT YOU in our Fundraising Campaign using the "INVITE" tab on the top menu bar. To place your order go to "Shop Online" and then "Use Marketplace."
Thank you so much and happy shopping!
If you have any questions you can email Maria Hutchison at [email protected]
To browse the catalogue check out: https://fundraising.purdys.com/GnFAssets/Resources/file/2020%20Christmas/2020%20Christmas%20Catalogue%2024pp%20FUND_Digital_Spreads.pdf
(photos of the catalogue pages are also posted below)