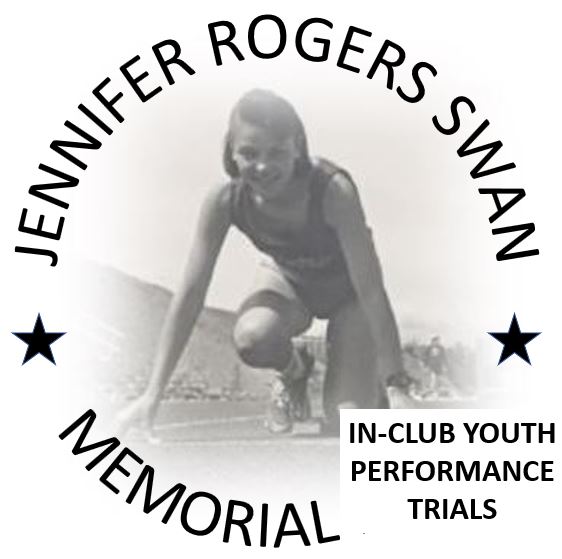 REGISTRATION DEADLINE EXTENDED TO NOON THURSDAY APRIL 15th
On Friday, April 16th & Saturday, April 17th, the Valley Royals will host the Jennifer Rogers Swan Memorial In-Club Youth Performance Trials.
While we can't have spectators, VOLUNTEERS are welcome! There are lots of opportunities for family members of club athletes to get in on the action. Volunteer to fill a safety role or to help at an event while earning valuable volunteer hours to fulfill volunteer requirements for 2021. For a list of volunteer positions, time slots to serve in, and an EMAIL LINK to secure your spot on the Volunteer Team, see the Volunteers Page at https://valleyroyals.ca/volunteers/
Track & Field Events Being Offered:
Friday, April 16th: Pole Vault and Throws (Hammer & Discus)

Saturday, April 17th: 1500 m, 1200 m, 1000 m, 100 m, 300 m, 400 m, and Long Jump
Royals Athletes are encouraged to register in running events, a jumps event, and – if age 14 or older – a throws event.
NOT SURE WHAT YOUR BCA# IS? Get your BC Athletics number info here: https://www.trackie.com/members/lookup.php
Event performances will be published as official results. However, placement and awards will not be given as competition is not permitted under the current provincial health orders.
Fees are just $10 for each event. These are very important to help the club cover the cost of renting the stadium and paying for professional timing.
For more information on these In-Club Youth Performance Trials, and printable pdf files, click these links to the various web pages about the event:
Zone Maps for the Friday & Saturday
Biography of Jennifer Rogers Swan & Remembering Jennifer Rogers Swan
SCHEDULE: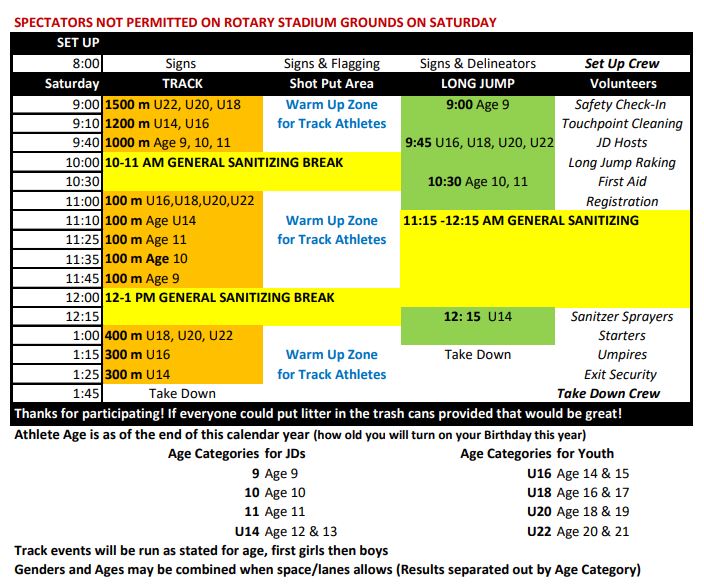 SATURDAY'S PERFORMANCE ZONES:
FRIDAY'S PERFORMANCE ZONES: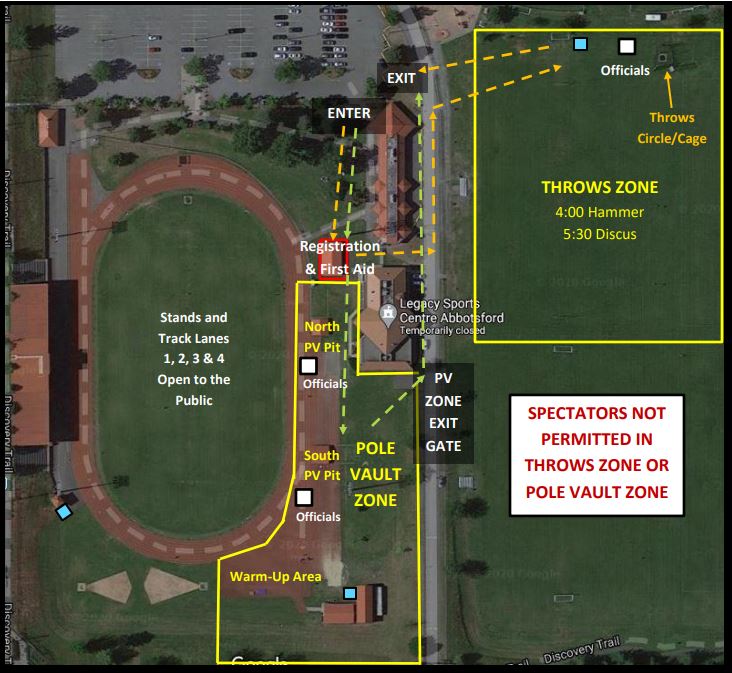 Due to Provincial Health Orders which will remain in place until April 19th, 2021, this year's Jennifer Rogers Swan Memorial Meet is offered as IN-CLUB YOUTH PERFORMANCE TRIALS for VALLEY ROYALS ATHLETES ONLY
Athletes, Volunteers, and Officials must adhere to Covid Safety Protocols:
Keep a safe distance apart (2m )
Officials/Volunteers/Coaches wear masks at all times
Athletes wear masks after exertion
Spectators NOT permitted inside 50-Person Performance Zone for each Event