Our JDs had a great weekend in Coquitlam, at the Jesse Bent Memorial Track and Field Invitational. Our young athletes were running jumping and throwing their way through sun, rain, and flood, and they represented us with distinction. The competition was fierce, and despite everything our athletes competed very strongly across the board; many finished in the top places in their respective events. Notable mentions go to Mathias Warkentin, Emmett Redekop, Harveer Nigah, Jake Mills, Damian Brown, Averie Westbrook, Gurman Sandhu, Jessie Booth, and Dhea Kondolay, who all were event champions. A big congratulations to Dhea Kondolay on a monster javelin throw of 23.35m!!
So very well done all our young athletes and families. – Coach Scott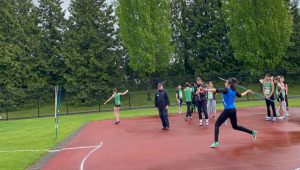 Great job to members of the Royals' power speed group at the Jesse Bent Meet, this past weekend (June 4) in Coquitlam. Though many of the group are preparing for the BC High School Championships later this week and opted not to compete, those who did represented the Royals well. Gurpartap Sandhu was the work-horse and performer of the meet capturing 3rd in the long jump , 2nd in the triple jump with a massive leap of 9.25m, 3rd in the 300 with a PB of 47.30, 4th in the 80meter hurdles and topped it all off with another PB in the 200 with a time of 30.33. Evan Booth and Emily Tinsley both had strong showings in the long and high jumps. Ry Trustham also ran well in the men's 400.
Well done team and best of luck to all Royals competing at the BC High School Championships June 9-11 in Langley. – Coach Trevor