A big congratulations goes out to Riley Simmonds, Sam May, and Adrianna Buitelaar, who have been selected by BC Athletics as finalists for the award of athlete of the year in the U16 division.
Riley Simmonds was the top scoring 14 year old in the Lower Mainland Cross Country Series, was the BC High School silver medalist at 1500m in the grade 8 division and placed very strongly at both BC Club and BC High Schools in Cross Country.
Adrianna Buitelaar was the top placing 14 year old in the 800m at both the BC Athletics Championships and BC Summer Games as well as one of the top finishers in her division at the BC Cross Country Championships.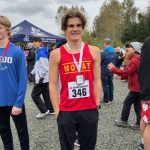 Sam May was the BC Summer Games Gold medalist in the 1500m s/c, and silver medalist in the 2000m and 1500m s/c at the BC Track and Field Championships. Sam placed third at BC High School cross country championships and also earned the silver medal at the 2022 Canadian Championships in the 1500m s/c.
So very well done to all these athletes for representing the Royals proudly. – Coach Scott