Our Royals distance group had some great performances at the JJ Schmidt Memorial meet, recently, in Richmond.
Adrianna Buitelaar ran on her own in the U16 2000m event to achieve Provincial Funding Standard to Canadian Championships with a spectacular 6:24.00 performance.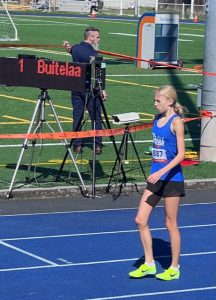 Riley Simmonds ran a personal best performance also in the U16 2000m with a blazing 5:59.71 to narrowly miss standard, and Maggie Epp also recorded a fantastic personal best performance of 2:17.49 in the 800m, only 1.5 seconds off standard.
Just as a note funding standard is the average of the 3rd place finish at National Championships for the past several years.
Will Van Schagen ran very strongly to easily win the 800m with a 2:03 clocking and then turned in a gut busting performance in the 1500m 🙂 Mack Lascelle, Miles Graham, Jonah Dyck, Jasmine Halwas, Zoe Unger, Santos Svelander and Sam Rasquinha also represented us proudly.
Well done Royals – Coach Scott