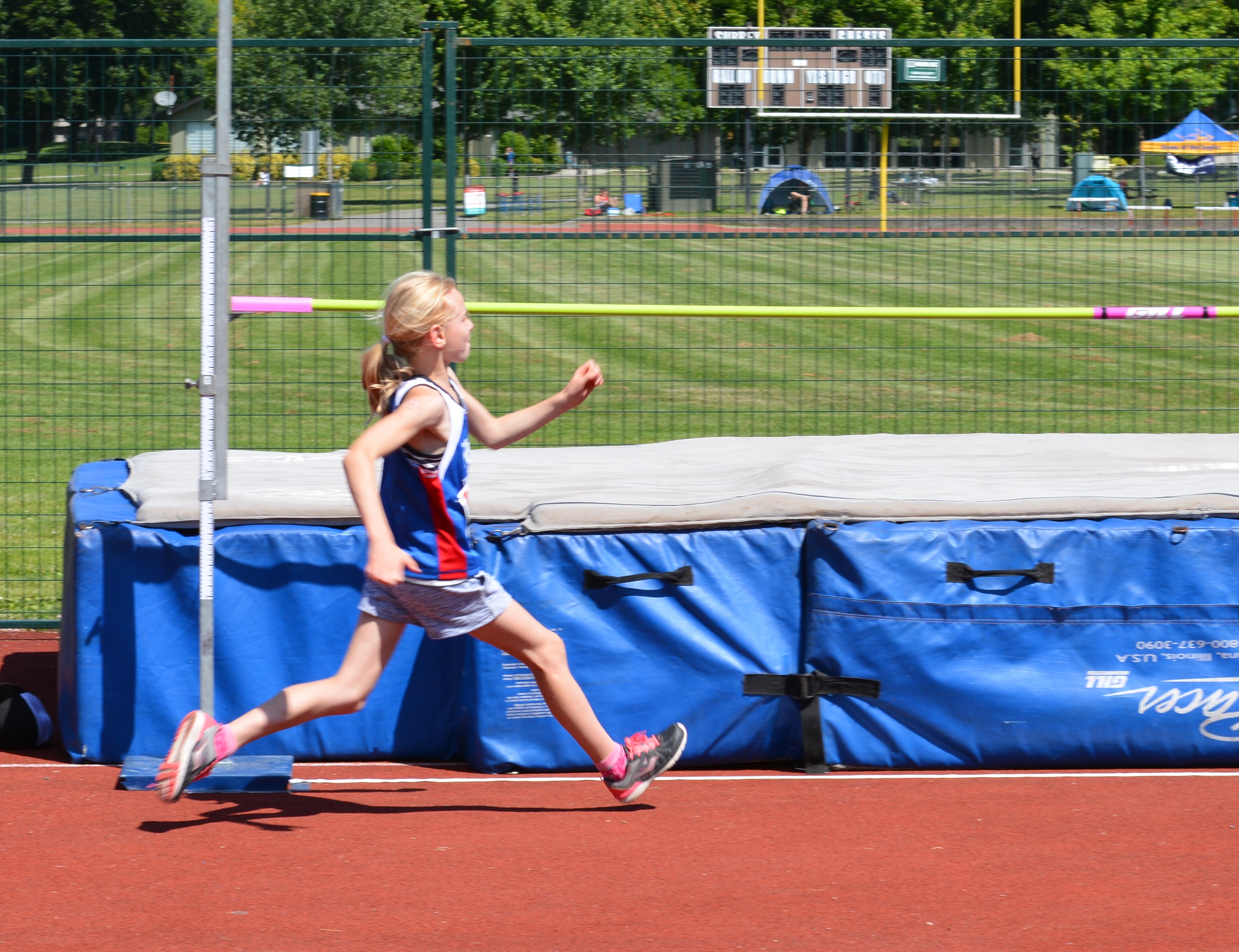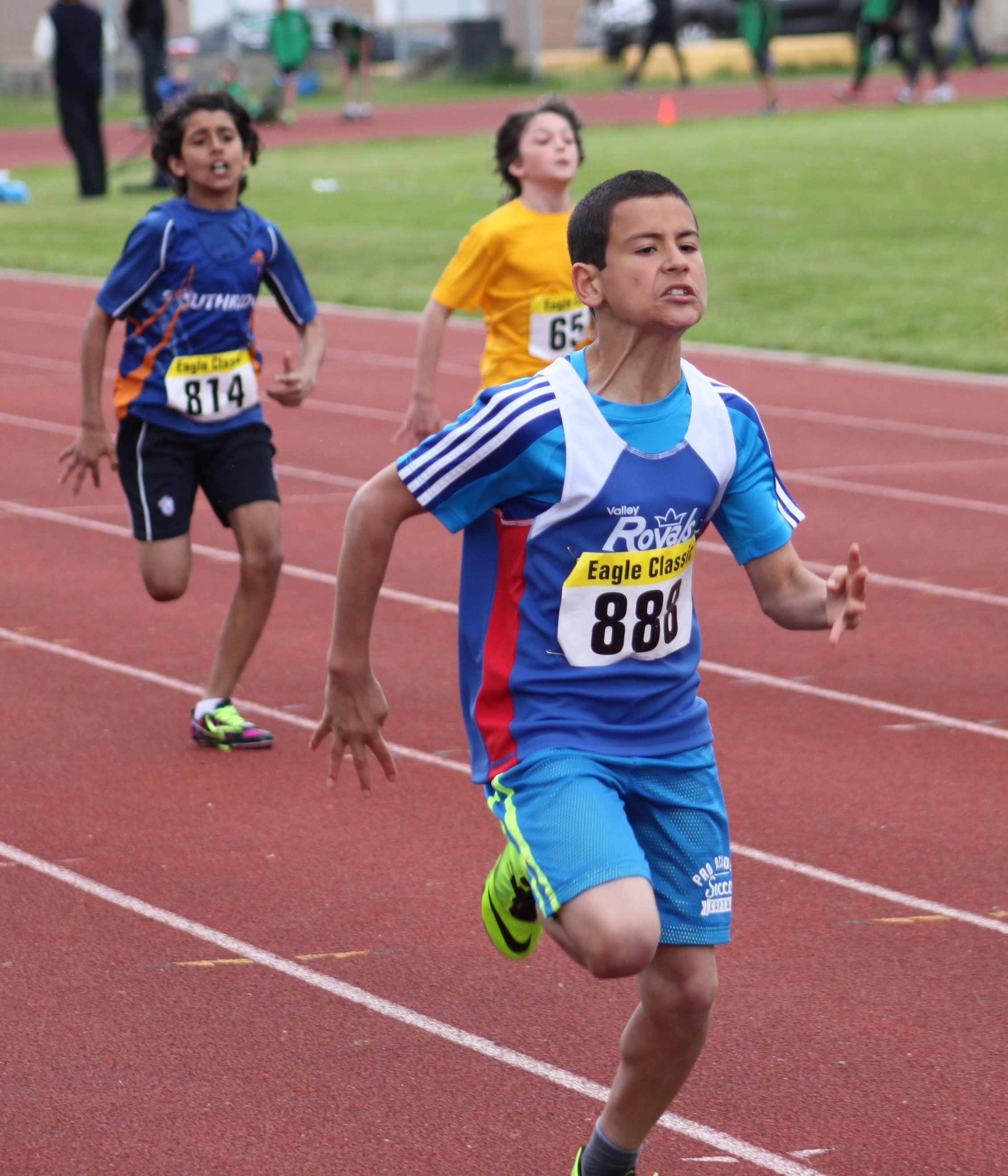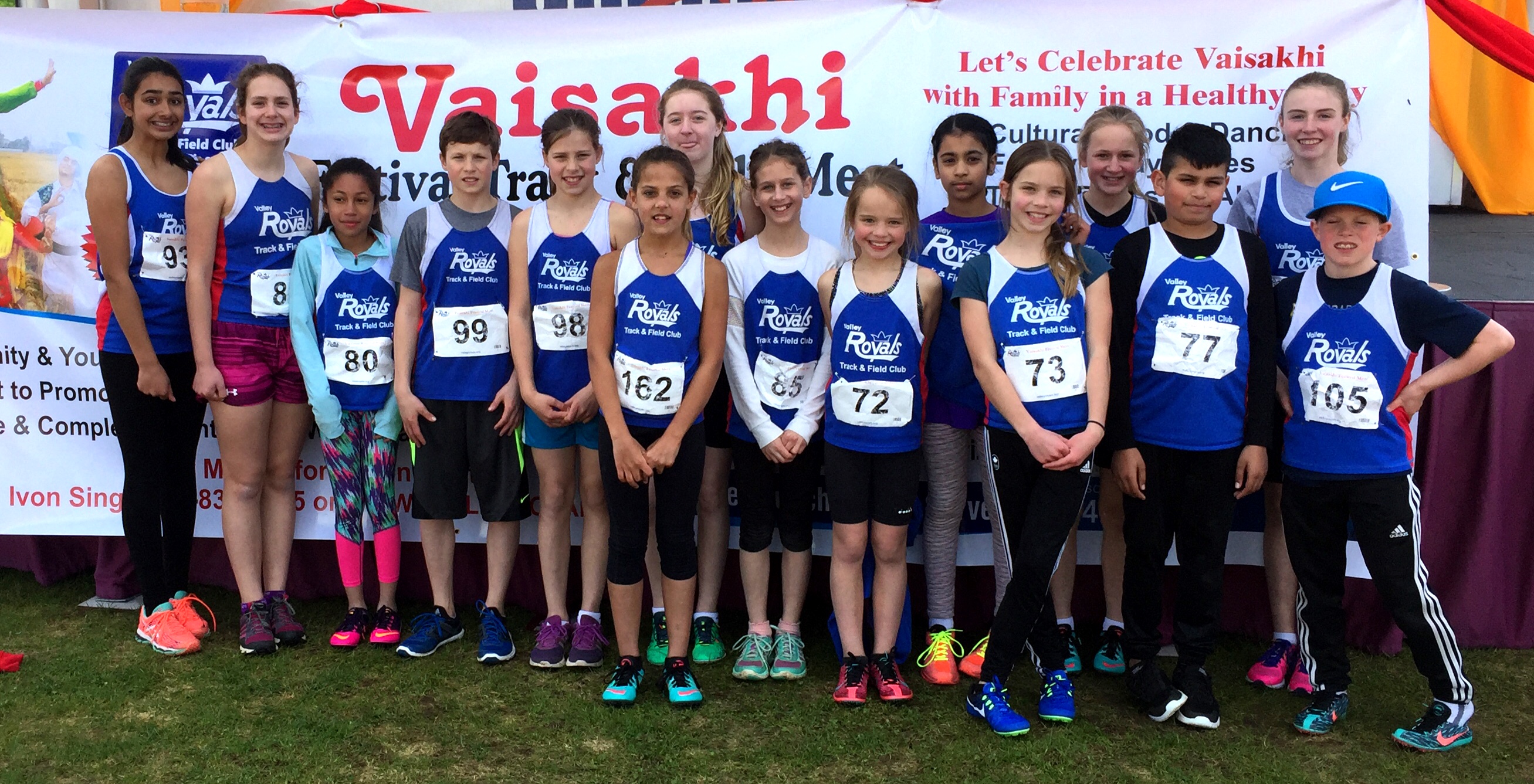 We are an inclusive Club accepting athletes of all abilities
The Royals have always maintained a strong junior development system and the club is proud of the number of athletes that have successfully come through this younger age group and developed into some of the best juvenile, junior and senior athletes in Canada. Year after year, the Royals have provided the nucleus of athletes and medal winners that represent BC teams at Western Canada and Canada Games competitions. At the 2012 & 2016 Summer Olympics, Valley Royals athletes were on team Canada.
Junior Development: Age 8 -13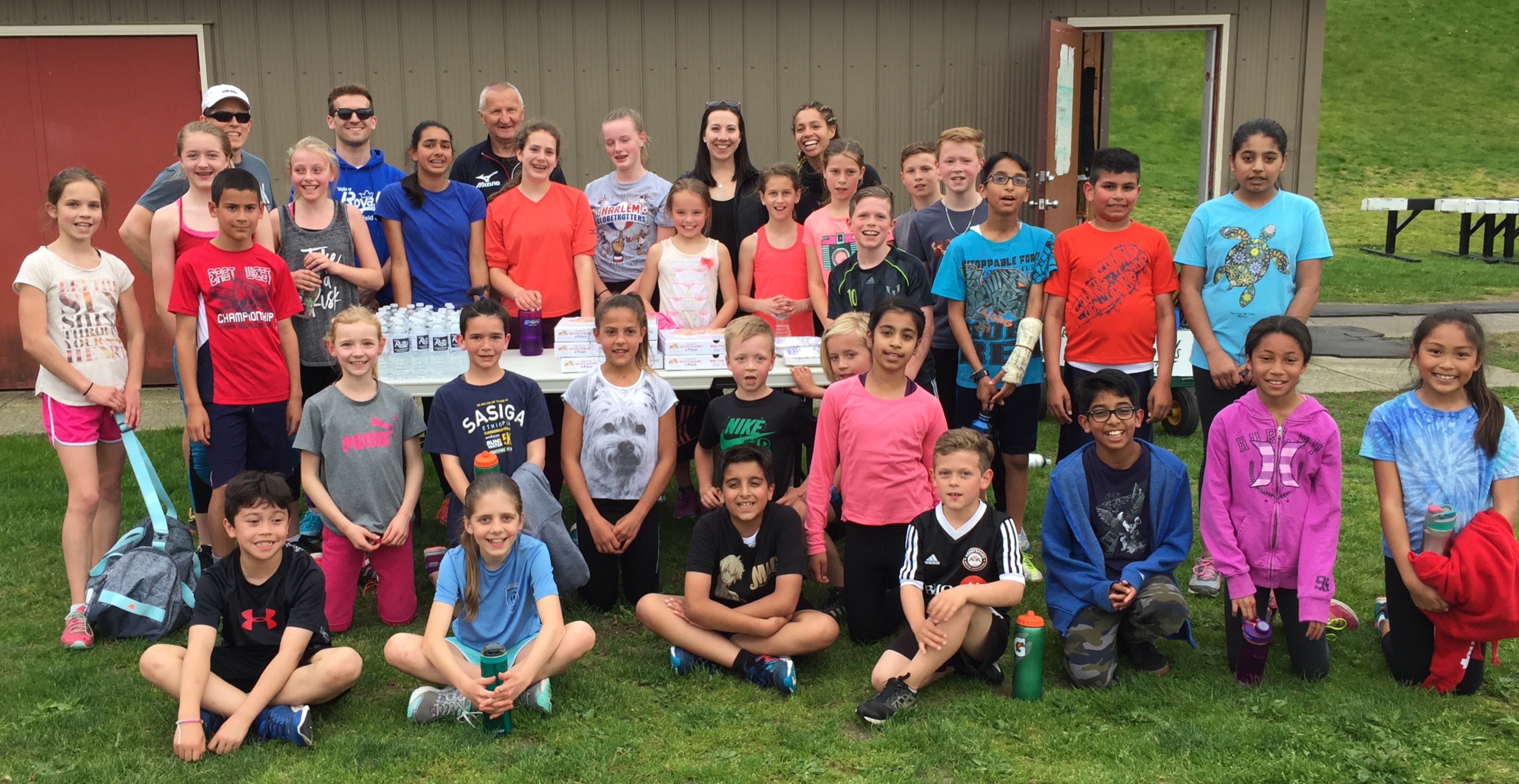 Track & Field Season:
JD Training Begins on Monday April 9th 2018 running until Wednesday, July 25th with the BC JD Championships happening on July 27-29th in Kelowna to conclude the JD Track & Field Season (No practices on statutory holidays)
PARENT MEETING:

Near the end of the first practice on Monday, April 9th, 6:45 – 7:15 PM at the Valley Royals Shed (South end of the track at Rotary Stadium)
Events Offered: Middle Distance, Sprints, Hurdles, Long Jump, High Jump, Triple Jump, Shot Put, Discus, Race Walk, Hammer(age specific) Pole Vault (age specific), Cross Country
This age group encourages athletes to try all event areas in both practices and competitions.
JD Track & Field Coordinator: Trevor Wight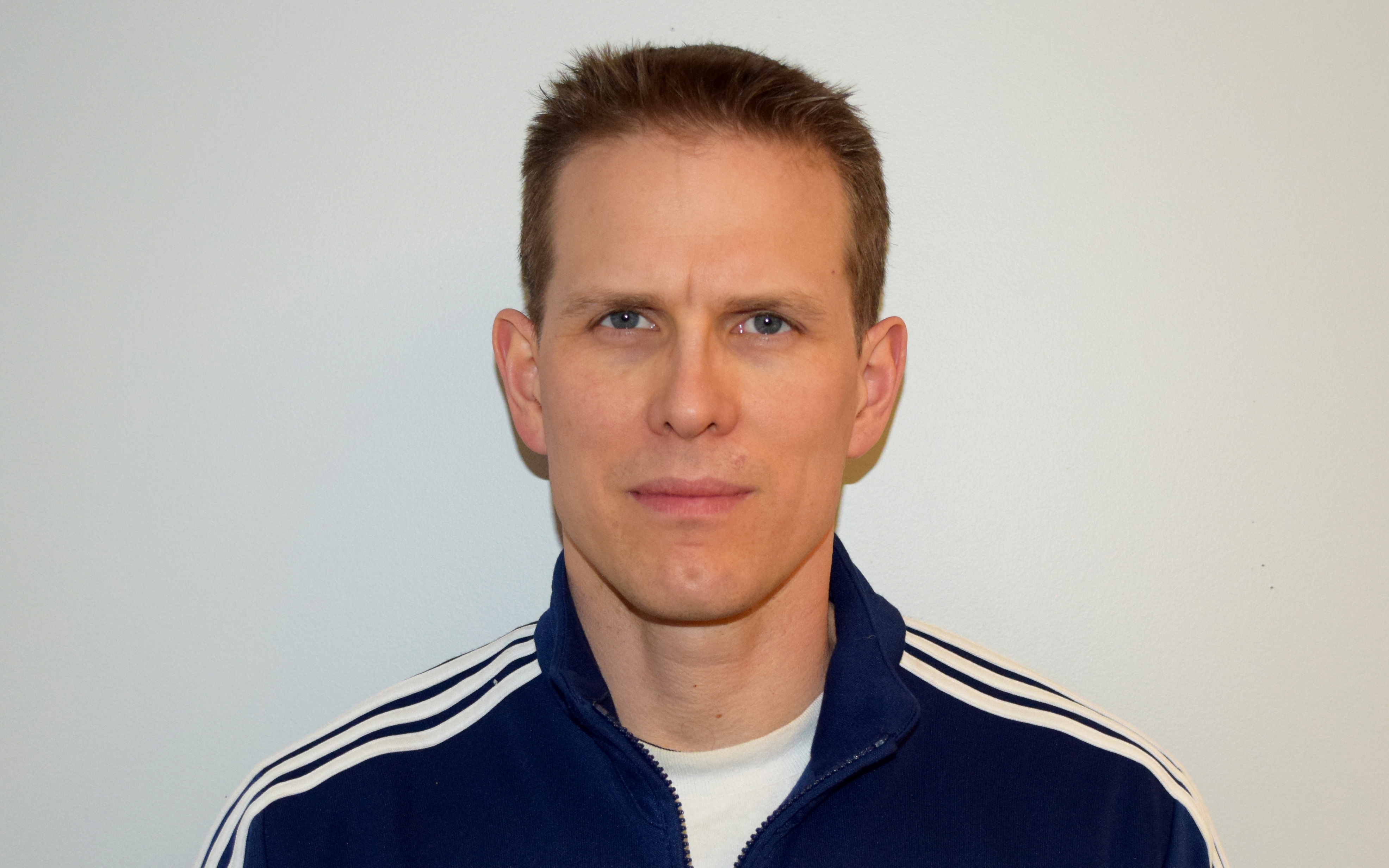 and JD Coaches:
Coach Ziggy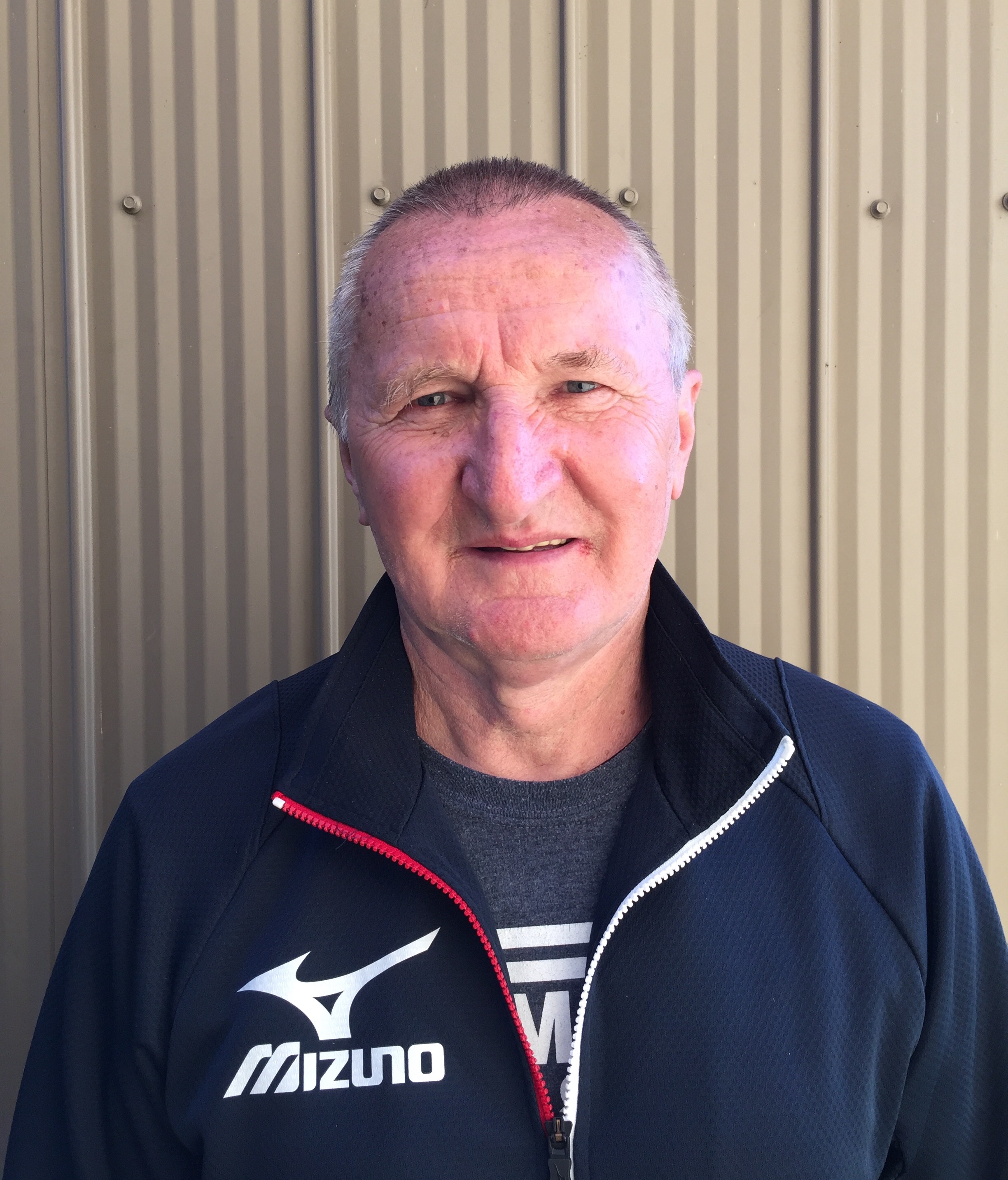 Jesse Phillips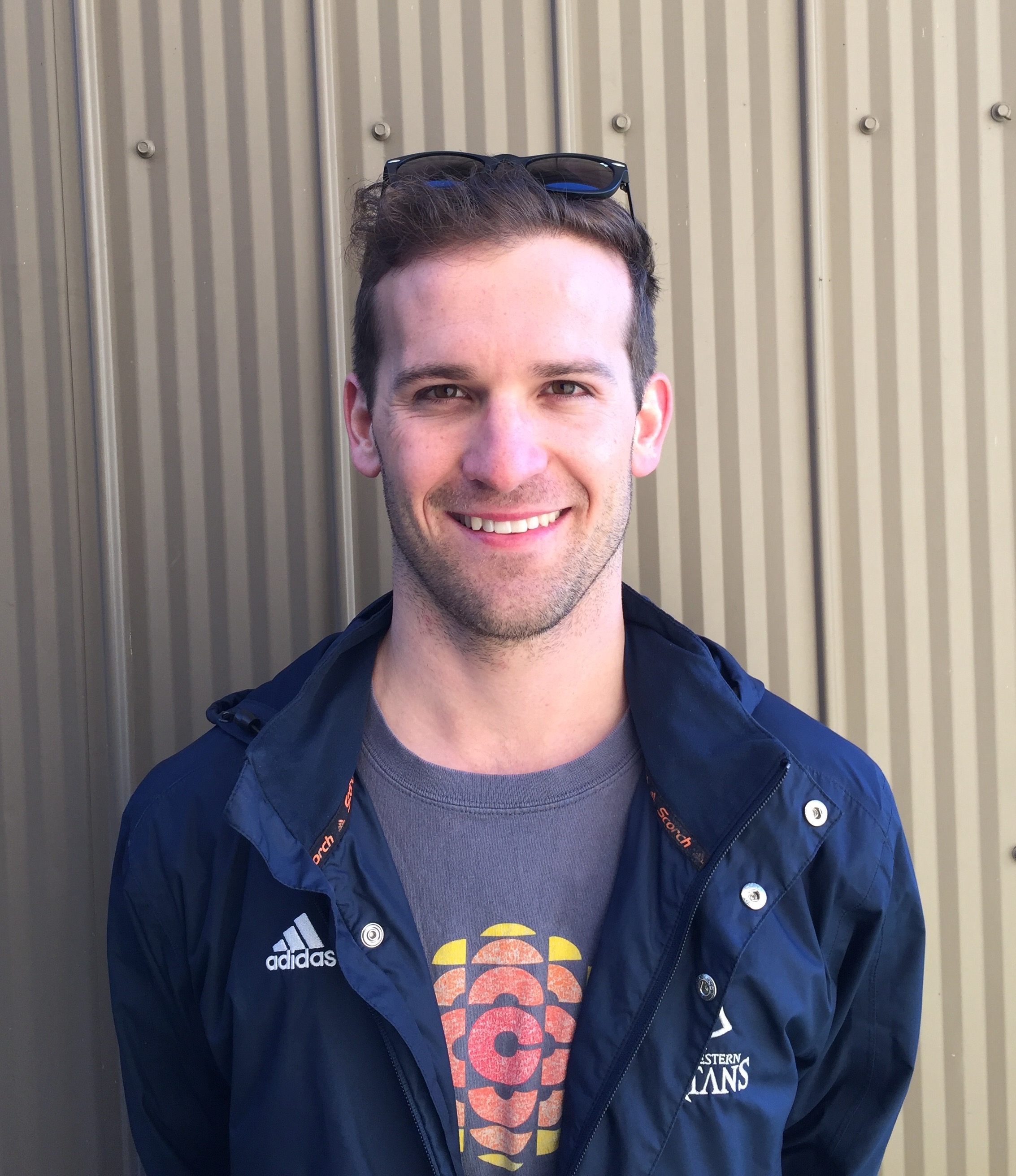 Alexis Krieg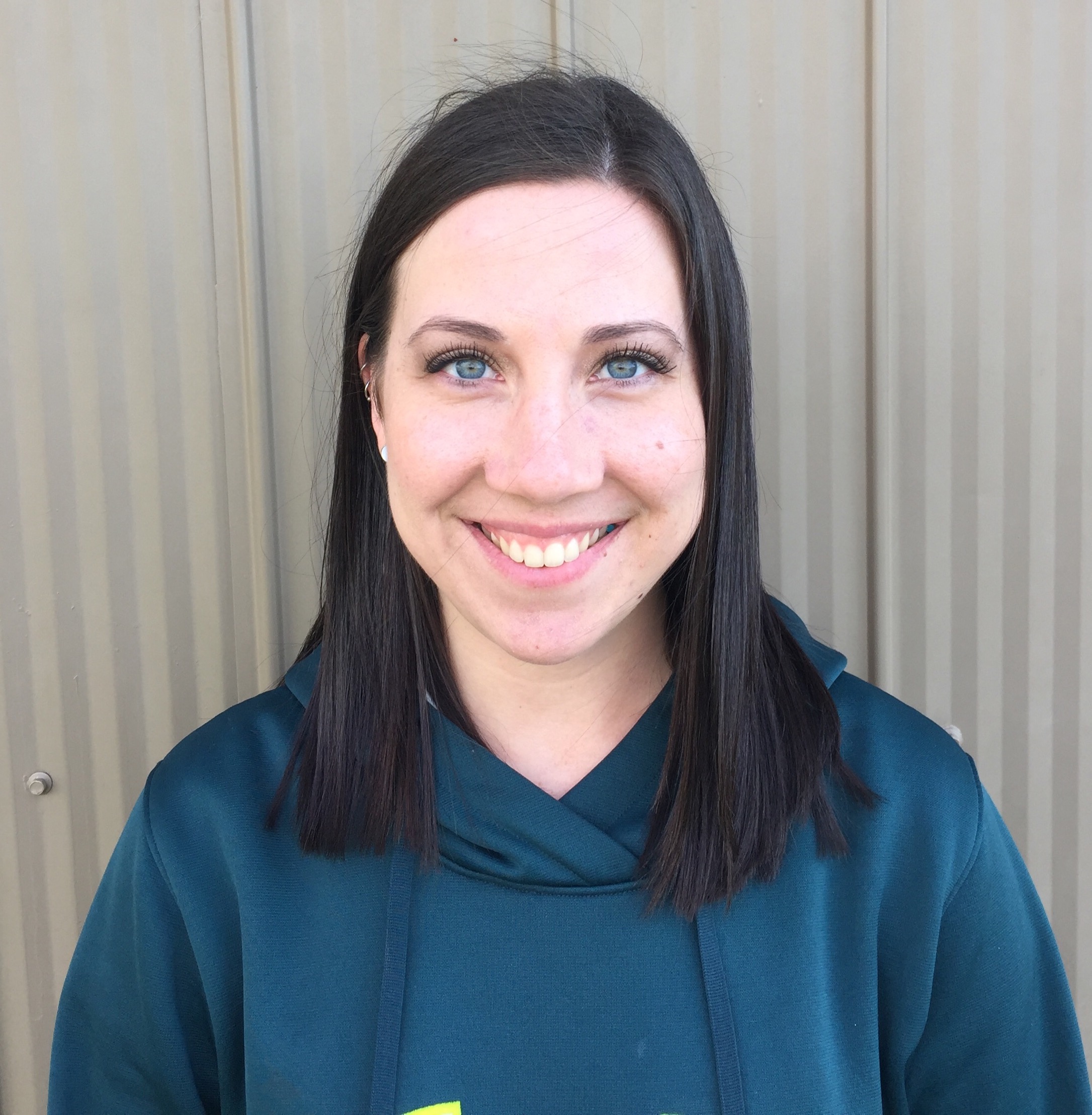 The focus for the JD athletes at meets should be on enjoying the experience and learning how to do their best in a variety of events and challenging themselves to improve their own mark.
PRACTICE SCHEDULE & Location:
Our JD Group trains during the Track & Field Season on:
Mondays 5:45 – 7:15 PM at Rotary Stadium
Wednesdays 5:45 – 7:15 PM at Rotary Stadium
Thursdays 5:45 – 7:15 PM at Rotary Stadium
Meet at the Valley Royals Shed at the South End of the Track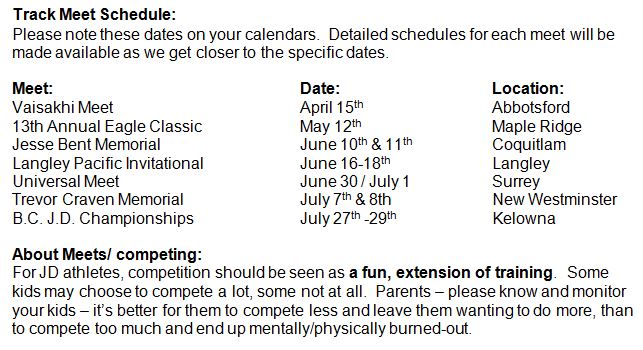 __________________________________________________
Cross-Country Season September-October
JD Cross Country Coach: Alex Seimens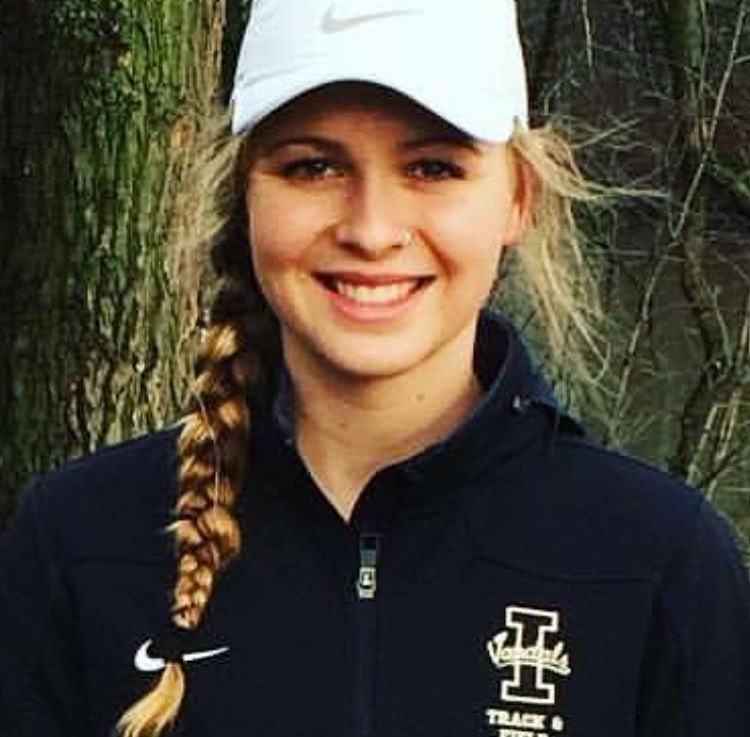 The JD cross country program is designed for athletes aged 8 to 13 years of age. Athletes 14 years of age this past spring who were members of the JD group may continue training with that age class if they prefer but, any athletes that are 14 years of age and are serious cross country runners are urged to join Coach Sue Northey's Middle Distance Group.
During the Cross Country Season, the JD group continues to train 3 days a week, but move from the track to Clearbrook Park to train on grass and forest trails. At this time the emphasis is placed solely on running and building up a large base (ie more mileage) in preparation for the BC Athletic Cross Country Championships. As such the workouts are a bit longer in distance while still retaining an effort to improve continuous speed. Intervals, tempo, fartlek and hills are some of the tools that are used.
Cross-Country PRACTICE SCHEDULE & Location
Our JD Group trains during the Cross Country Season on:
Mondays 4:00 – 5:30 PM

at Clearbrook Park
Wednesdays 4:00 – 5:30 PM at Clearbrook Park

Saturdays 10:00 – 11:30 AM

at Clearbrook Park
Park in the Parking Lot off of Clearbrook Road on the West Side of the Park (just north of Ecole Clearbrook Elementary School). Meet at the Sign/Entrance to the open field on the East side of the parking lot. Practice is rain or shine so dress appropriately, and bring water.
__________________________________________________
Training Stages for JD Athletes:
The images below illustrate some of the principles underlying our JD program: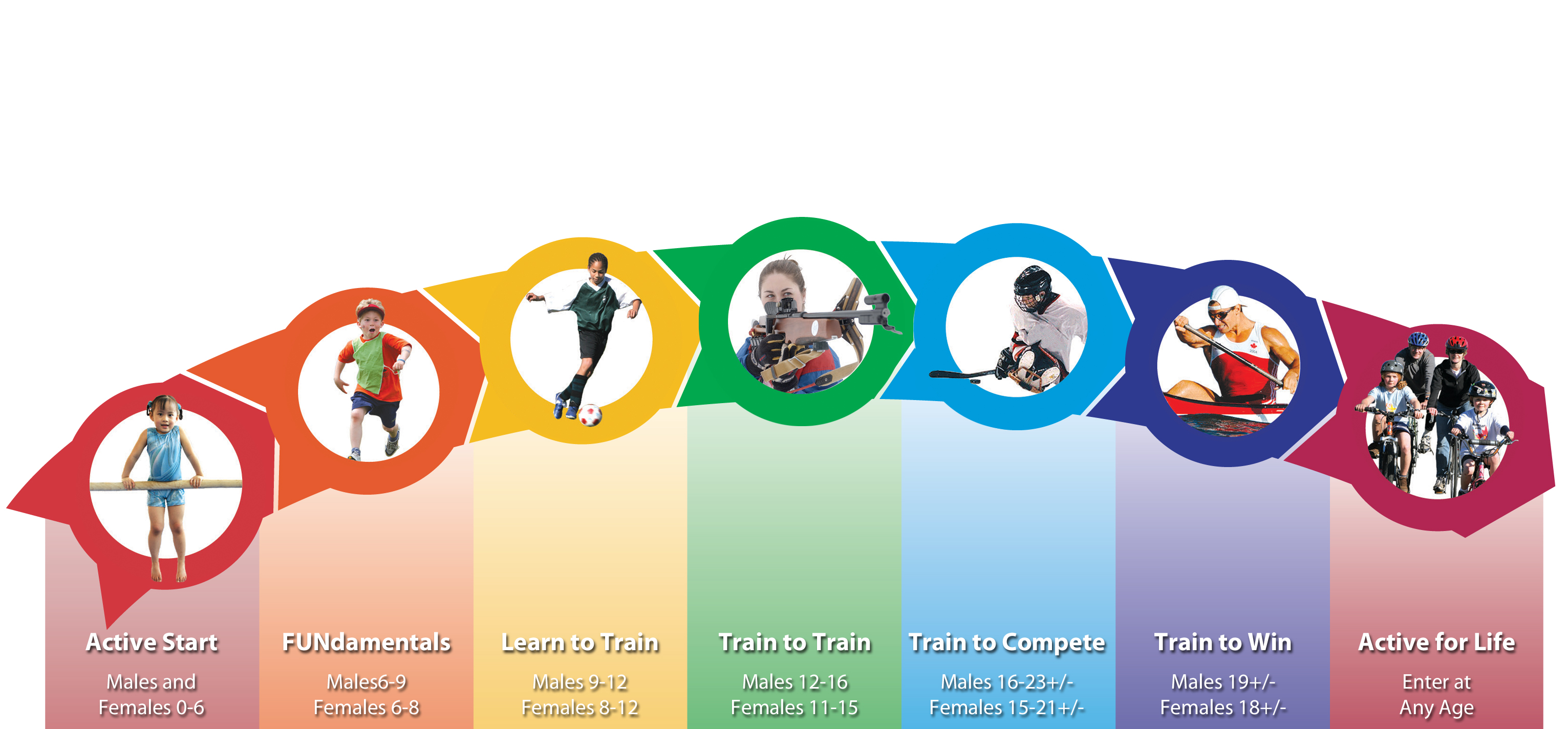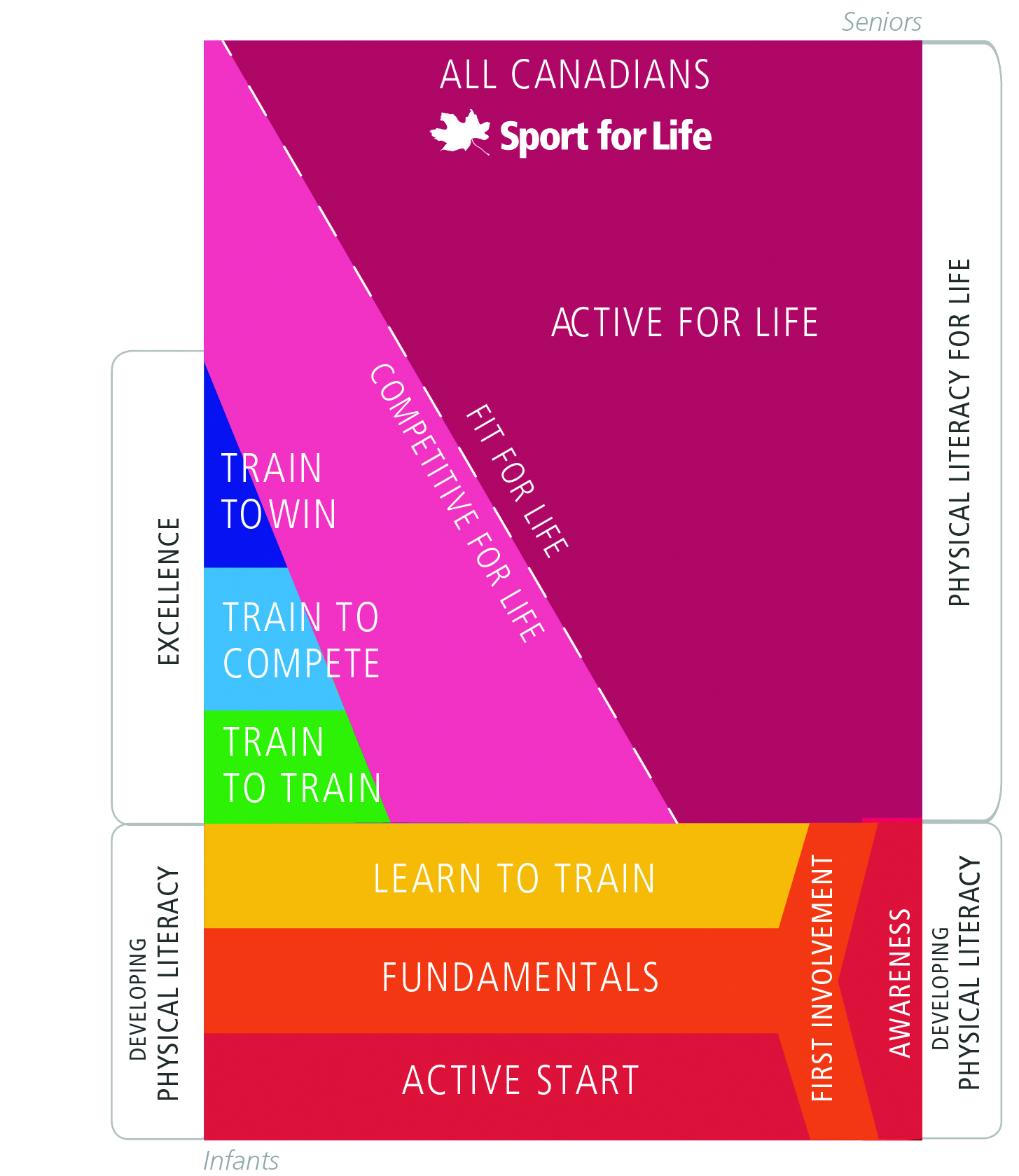 Updated Sept 5th 2017