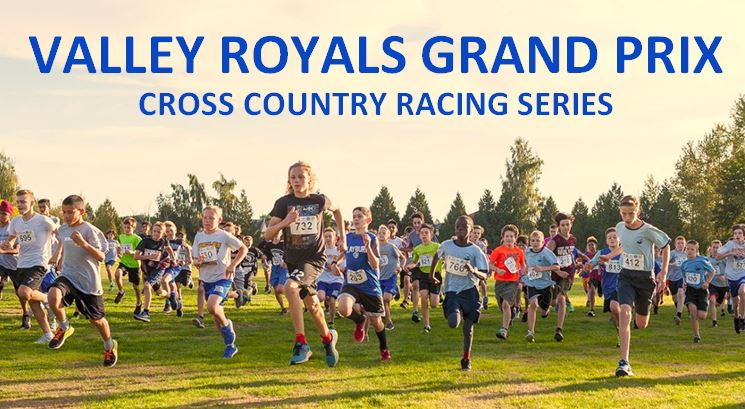 The Valley Royals Grand Prix Cross Country Series is hosted every Wednesday afternoon over 4 consecutive weeks in the fall (the last two Wednesdays in September and the first two Wednesdays in October). The racing series attracts hundreds of students in Grades 4 to 8, from the Abbotsford and Mission area.
The Grand Prix takes place in "Clearbrook Park" (also called "Ron Wiebe Park") over a 1-Mile (1600 m) race course around the main field and through the woods on the north edge of the park. Students get better at running the course each week, learning how to pace themselves for a race of this distance, and improving their stamina. Students love to try and improve their personal best time (PB) or finishing position from week to week. Results are posted on this Web Page each Monday after a race. All 4 Race Results are calculated together to determine the placement of award winners.
Race dates for 2019 are: September 18th & 25th and October 2nd & 9th. The Series is open to ALL students in grades 4, 5, 6, 7, or 8. If a student is home-schooled, or attends a school that does not participate in this event, they can register as"unattached". The Registration price per athlete is $8.00 (includes all 4 Races) if registered before Midnight Sunday September 16th using the Online "Trackie" system (see link below). Late Registration is $12 per athlete and is available at Valley Royals Registration Tent on site on race days.
Information Package:
Registration:
ALL REGISTRATIONS MUST BE DONE ONLINE THROUGH TRACKIE:
Click this link to go to the Registration Page: https://www.trackie.com/online-registration/register/valley-royals-grand-prix-racing-series/25011/
Select how many individuals you want to register and fill out the form for each individual. Need a faster way to register lots of individuals? Use the "import entries" option on Trackie's registration page to download Trackie's Template File. Use it to create a spreadsheet of all your athletes' info, then register them all at once by importing your newly saved file into the Registration Page on Trackie
Once done entering all athlete data click on the "PROCEED TO STEP 2" button.
Review your information on the confirmation page then click "CONFIRM REGISTRATION"
If you have any issues please contact

[email protected]
Payment:
HOW TO PAY: Trackie will not accept payment for this event. Please Bring Cash or Cheques (made payable to the "Valley Royals") to the Valley Royals Registration Tent on site in Clearbrook Park on the first Race Day. Upon payment, schools will receive an envelope of numbered racing bibs and an athlete roster matching each athlete with their number, each home schooling family will receive the same for their registered children.
PRICING: Athletes registered online before midnight on September 16th only pay an $8 registration fee which includes all the races the series (regardless of how many of the four races the athlete participates in).
LATE REGISTRATION is available at the Valley Royals Registration Tent on site in Clearbrook Park on race days: Sept 19th, Sept 26th, Oct 3rd and Oct 10th. Late Registration pricing is $12 per athlete which pays for all races left in the series.
Send any questions to Christa McAuley at:

[email protected]

Please note that Christa won't be able to accept Registrations. All Athlete Registrations must be done online using the link to Trackie above.
Parking:
We realize parking is an issue at Clearbrook Park but ask that you kindly park on neighborhood streets South of the park or to the East at Exhibition Park and walk across to Clearbrook Park using the underpass tunnel near the northwest corner of Exhibition Park.
PLEASE DON'T PARK:
In the Clearbrook Park Parking Lots (Drop Off is OK) Parking on the grounds of Clearbrook Park is for VOLUNTEERS only and, for the safety of athletes getting dropped off or picked up, no cars will be allowed to leave the lots until all races are completed
Maranatha Baptist Church The church has daycare and after school programs and people parking at the church create significant problems for them and the safety of their kids
Clearbrook Elementary The school locks its gates when done for the day so don't risk getting locked in for the night.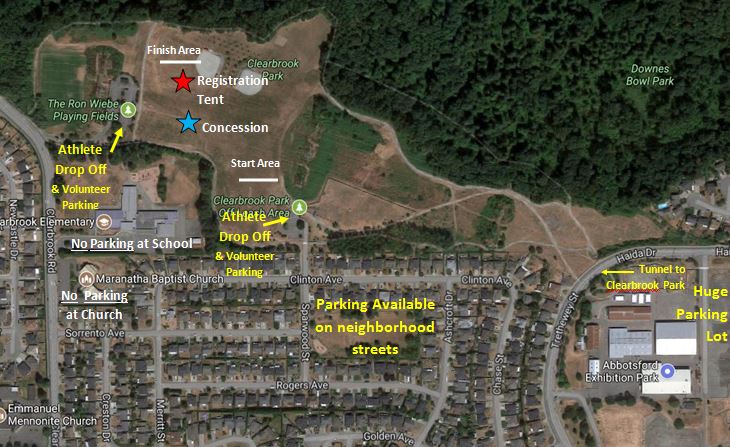 Please note
Food & Beverages:
There is NO DRINKING WATER available at the Park, runners should bring their own water bottle. However the Valley Royals will be hosting a concession stand that will sell water, sports drinks, chips and small candy bags.
2018 Grand Prix Results:
Please note that there are multiple pages on each spreadsheet file below. Click tabs at the bottom of page to find the grade/gender results that you are looking for.
Results from Week #1: Grand Prix Week 1 Results – Sept 19th 2018
Results from Week #2: Grand Prix Week 2 Results – Sept 26th 2018
Results from Week #3: Grand Prix Week 3 Results – Oct 3rd 2018
Results from Week #4: Grand Prix Week 4 Results – Oct 10th 2018
(If you can help fill in any missing information on the results spreadsheets please email Meet Manager, Debbie Foote at [email protected] )
The 2018 Jane Swan Fitness Award goes to Fraser Middle School
Congratulations to our new ALL TIME TOP TEN RECORD HOLDERS from the 2018 Grand Prix Racing Series:
Grade 4 Girls – #2 Alexia Smith (unattached) 6:52 95
Grade 5 Girls – #9 Payton Finnie (unattached) 6:51 48
Grade 6 Girls – #3 Amy Trent (ACS Middle) 6:28 10, #4 Chanin Klaus (ACS Middle) 6:30 05
Grade 7 Girls – #10 Kristin Kampman (ACS Middle) 6:31 53
Grade 8 Girls – #7 Malia Lenz (Abby Middle School) 6:17 68
Grade 4 boys -#8 Kaiden Gleeson (Auguston) 6:43 04
Grade 5 boys – #9 Oliver Teer (ACS Elem) 6:26 82
Grade 6 Boys – #10 Arata Nakanishi (Clayburn Middle) 6:11 16
Grade 7 Boys – #1 Brendan o'Brien (Unattached) 5:36 92, #3 Mark Molina (Clayburn Middle) 5:42 57
Grade 8 Boys – #3 Nathaniel Leroux (Vedder Middle Schoool) 5:35 63
VALLEY R
OYALS GRAND PRIX ALL TIME TOP TEN:
2017 Grand Prix Results:
Please note that there are multiple pages on each spreadsheet file below. Click tabs at the bottom of page to find the grade/gender results that you are looking for.
Results from Week #1: Results Week One – September 20 2017
Results from Week #2: Results for Grand Prix Week 2 – September 27 2017
Results from Week #3: Grand Prix Week 3 Results – Oct 3rd 2018
Results from Week #4: Results for Grand Prix Week 4 – October 11 2017
Top School Teams: Grand Prix 2017 Team Awards and Jane Swan Fitness Award (To qualify for Team Scoring in a Grade/Gender Category, a school must have at least 4 runners compete in 3 of the 4 Races in the Grand Prix Series)
The 2017 Jane Swan Fitness Award is awarded to:

John Calvin School
Congratulations to our new TOP TEN RECORD HOLDERS from the 2017 Racing Series
(See the full"Grand Prix Top Ten" Records in link below ) Grade 4 Girls: #8 Alexia Smith Grade 5 Girls: #9 Amy Trent Grade 5 Boys: #1 Daniel Fleming, #5 Arata Nakanishi, #7 Luke Wight Grade 6 Girls: #6 Demi Timmerman, #8 Lyn Chuang Grade 6 Boys: #4 Mark Molina, #8 Ben Brandsma Grade 7 Girls: #2 Mikaiah Zietsma, #3 Malia Lenz, #8 Stella Petrie Grade 7 Boys: #8 Hayden Sansalone, #10 Tyler Pretty Grade 8 Boys: #4 Josh Vandevelde
Photos from the 2017 Grand Prix Races: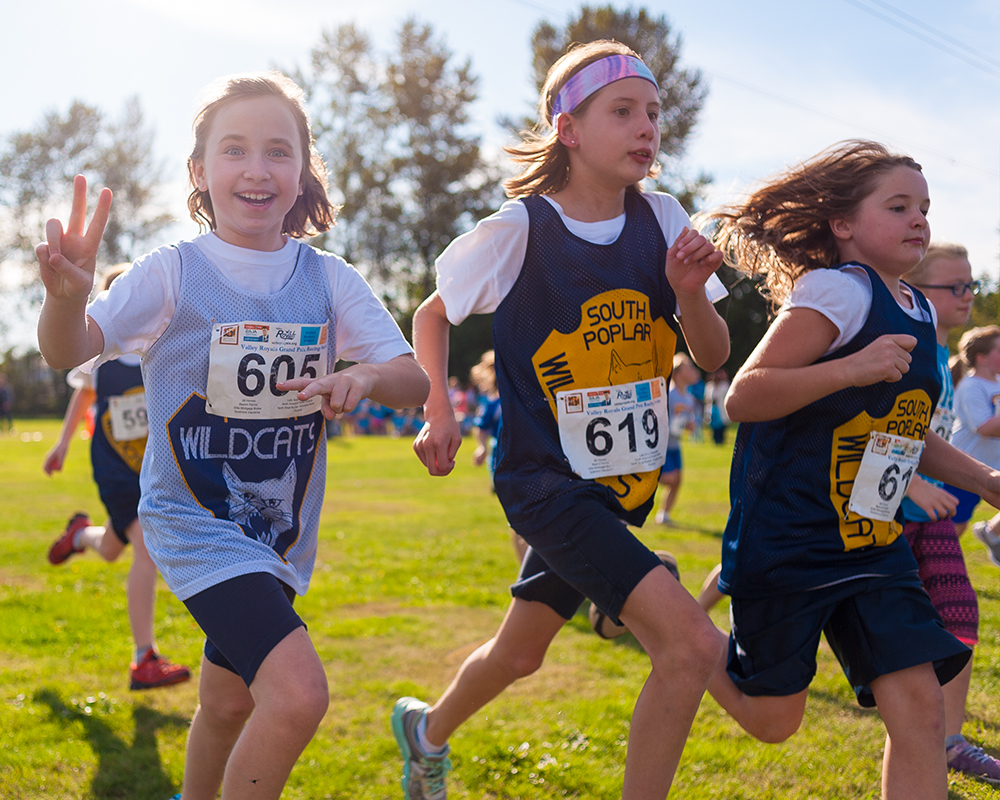 Photos by Paul Funk: https://valleyroyals.ca/2017-2/nggallery/track-
Valley Royals Grand Prix History

In 1983, the elementary school's Grand Prix Cross Country series of races came into being after Gerry Swan returned from the Canadian Track and Field Team tour of Europe. He noticed that a very popular series of meets in Europe were called the Grand Prix, where the winners were awarded points in each of the five Grand Prix meets they competed in. The winners were awarded prizes in ounces of gold or even a Mercedes Benz car. When Gerry arrived home from that series of meets, he suggested to his wife Jane, that perhaps they could initiate a series of cross-country meets for elementary school aged athletes that would follow the format of the European Grand Prix. Jane thought this was a great idea and set forth in putting the wheels in motion to begin what is now known as the Valley Royals Cross Country Grand Prix. The first meets began in 1984 and took place in Centennial Park. These early meets had races for grade 4, 5, 6 and 7, and in the initial years attracted less than 100 competitors.
There were some memorable races in Centennial Park. On one particularly noticeable race day, a giant thunder and lightning storm took place during the grade 5 boys' competition. The loud claps of thunder and bolts of lightning so frightened one youngster, who at the time was leading the race, that he ran off the course and jumped into his mother's arms. After that the competitions were delayed for half an hour until the skies cleared. With the advent of middle schools, the series was enlarged to include grade 8s. In addition to declaring winners in each grade division, it was decided to have an overall/ aggregate winner declared with the Jane Swan trophy awarded as the grand prize.
Now we are in the 35th year, the series is as popular as ever. Schools use it as their kick-off point for the other athletic teams that will have their competitions following the cross-country season. In addition, it's hoped that the series will promote general fitness and that is the purpose behind the awarding of the Jane Swan Fitness Award. So good luck to all the schools and competitors, and we will hope that this series of meets is as popular in the coming decades.
Updated September, 2018