PRACTICE GROUP UPDATE as of Friday, March 20th:
Junior Development Group is postponed. Interested athletes may reserve a spot on the JD Waitlist by Registering Online and selecting the "$20-One Week Trial" option. Cost: $20 (which can be applied to a JD membership package if the season proceeds or be reimbursed if the JDs are unable to train this season)
Track Rascals (Two days a week for 8 weeks in May & June) is still to be determined. To reserve a spot on the Track Rascals Waitlist email the club administrator, Christa, at

[email protected]

Athletes Age 14 and Up, that are currently registered and training with the Royals, will continue to train using electronic communication with their coach. Watch for an email from your coach to learn how your training will proceed. Athletes in this age group, who are not currently registered but are interested in training, may reserve a spot on the 14 & Up Waitlist by Registering Online and selecting the "$20-One Week Trial" option. Cost: $20 (which can be applied to a membership package if the season proceeds or be reimbursed if the the athlete is unable to train this season). Due to health concerns, high jump and pole vault are not currently available for training.
Please contact the Club Administrator, Christa, at

[email protected]

if you have any questions about becoming a member of the Valley Royals Track & Field Club
Online Membership Registration and Payment is available here: ONLINE REGISTRATION
For a Printable PDF of the Chart (pictured below) regarding Fees/Expectations/Deposits for all Registration Packages CLICK HERE: 2020 Pricing Chart for VR Membership Packages _New_Masters Full Year Membership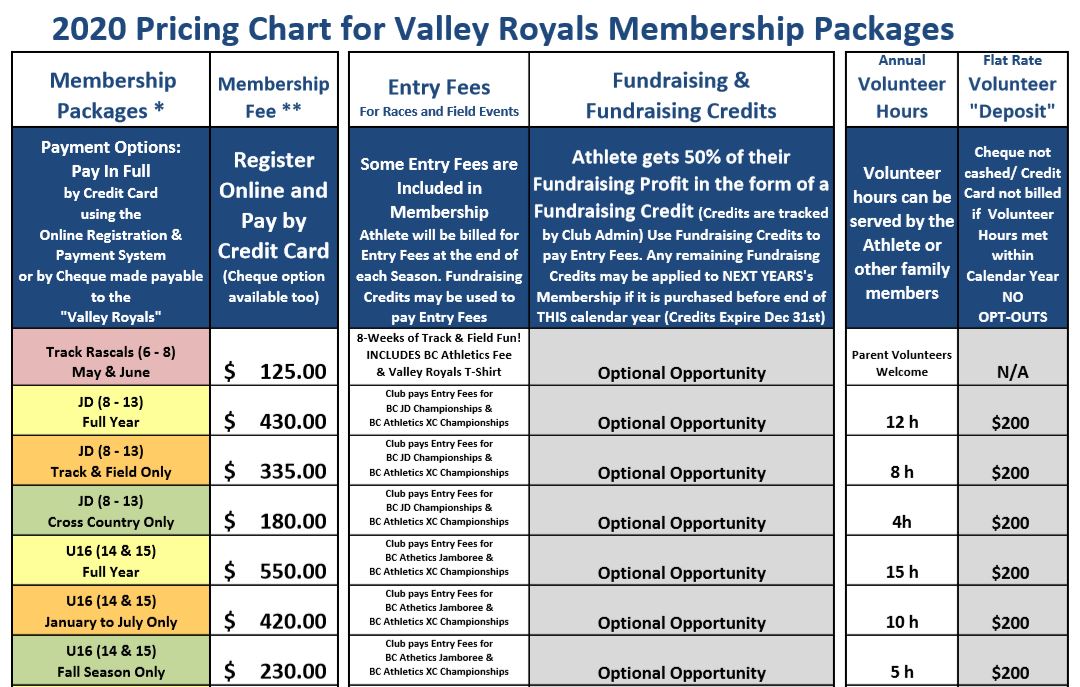 * Effective birth date for all categories is December 31st so the Athlete's age is the age they will turn on their Birthday within this calendar year.
**All Membership Fees include the BC Athletics Insurance Fee with the exception of:
~ Past members in Univ/College training May – August (Must already be insured by their School)
~ Athletes coming for training from another club (Must already be in insured with BC Athletics by their club)
~ One Week Trial has insurance from BC Athletics for TRAINING ONLY (Athlete may not compete until Membership Package is Purchased)
Due to insurance rules, all athletes must have a paid Valley Royals Membership to participate with a Royals training group. A $20 one-week trial membership is available for athletes new to the Royals and wanting to check out a training group before buying the full membership. To select a membership package and register online click ONLINE REGISTRATION
Credit Card Payment option is available
Single-Season Memberships are available for the TRACK & FIELD/Spring-Summer SEASON ONLY or CROSS COUNTRY/Fall SEASON ONLY(Please note: If you select the Spring-Summer Season and later decided to come back in the Fall Season you will need to contact the club Administrator to register & pay for the Fall Season. Moving up to the Full Year Membership will not be possible at that point so we recommend that you choose the Full Year option at the start of the year if you think you may be coming back in the fall)
$20.00 INTRODUCTORY WEEK available to athletes that are new to the Valley Royals (see ***INTRO SPECIAL*** below for details)
What if I have Fundraising Credits left over after I have paid for all of my Entry Fees for the year? All Fundraising Credits expire on December 31st each year. They may not be carried forward into the following year. However. if you have Fundraising Credits left over at the end of the Fall Season, you can use use them toward purchasing next year's Club Membership as long as the Membership is purchased before Dec 31st.
New members must supply a copy of their birth certificate to the Club Administrator (either in person or by emailing a photo or scan of the document)
Athletes ages 14 and up can move between groups or attend more than one group if approved to do so
Age is calculated as of Dec.31st of the year you are registering for
Financial Assistance: Please check out Kids Sport Canada website for information related to financial assistance here
***INTRO SPECIAL***
$20.00 INTRODUCTORY WEEK Option: For just $20.00 (fee covers insurance for training only, not competing) a new athlete gets the chance to attend one week of practices before deciding to join and pay in full (Use Online Registration to select this option) This option can be used only once and is only available to athletes who are new to the Valley Royals Track & Field Club.
WHAT A VALLEY ROYALS TRACK & FIELD CLUB MEMBERSHIP (NOT $20 INTRO) PROVIDES:
Membership Includes:
access to training groups
subsidized club clothing
award at annual banquet
team fees paid for BC or Canadian team members
Entry Fees paid by Club for up to 3 events/races at the "BC Track & Field Championships"(BC Athletics)
Entry Fee paid by Club for race at "BC Cross Country Championships"(BC Athletics)
Not Included in Membership:
Entry-fees for competitions/events (Can be covered through fundraising credits Fundraising Credits_Answers to FAQs )
BC Athletics Membership: mandatory for club membership (the BC Athletics Fee provides the necessary insurance coverage for the athlete)
Special exception for athletes enrolled in University: All Entry fees are included in the Club Membership and only a small number of Volunteer Hours are required of University Athletes.
VOLUNTEER DEPOSIT:
A postdated cheque (Dec 15th of calendar year) in the amount of $200.00 will be required (families with more than one athlete in the club add $50 per each additional athlete to their cheque total). This cheque will not be cashed if the volunteer hours requirement is met within the calendar year.
If paying registration by credit card, no deposit cheque is needed
–instead, credit card will not be billed if volunteer hours are met within the calendar year. Click on
volunteer & fundraising expectations
for details.
Club FundRaising Activities:
Track meets, cross country meets and road races hosted by Valley Royals
Fundraisers throughout the year that may be approved by the Directors of the Club
Each athlete/family is expected to fundraise but how much is up them. There is no minimum fundraising expectation but there are direct benefits to the athlete in the form of a 50% fundraising credit that can be applied to entry fees or next year's membership before the credits expire on December 31st. For more information on Fundraising Credits click here: Fundraising Credits_Answers to FAQs
Click on "Volunteer and Fundraising Expectations" above for details.
Uniforms:
Club uniform "singlets" must be worn to competitions entered via club
Athletes buy their singlet at ordering time and can try on a sample size to check the fit
Specialized uniforms/hoodies available on request

COMPETITION SINGLETS
If you need a competition singlet contact Christa at [email protected] We now have a for-purchase system on our new ROYAL BLUE ADIDAS SINGLETS. Some old Singlets with red side panels are available for sale too but sizes are limited. Athletes can wear either the old or the new singlet in competition.
____________________________________________
Updated March 20th, 2020