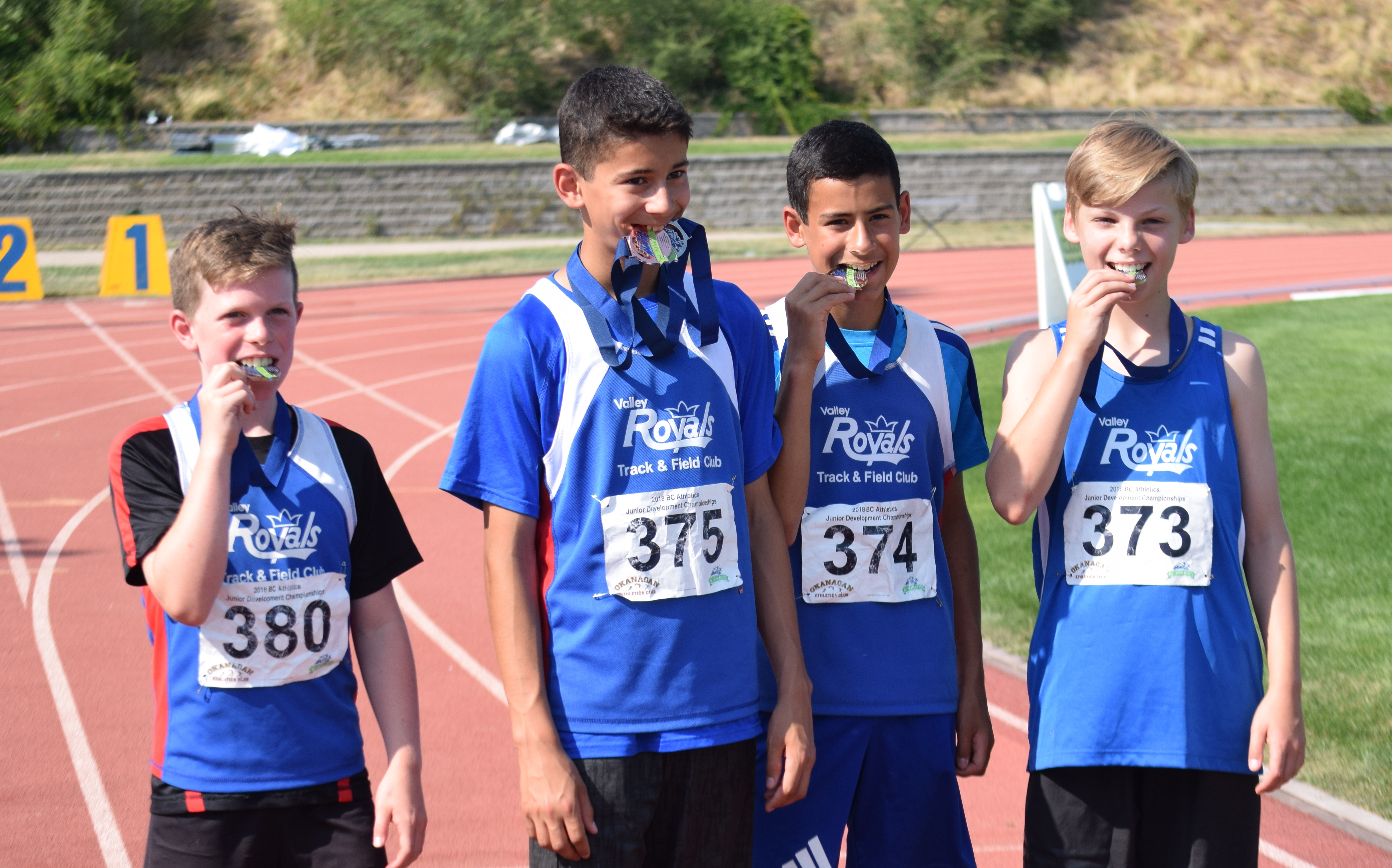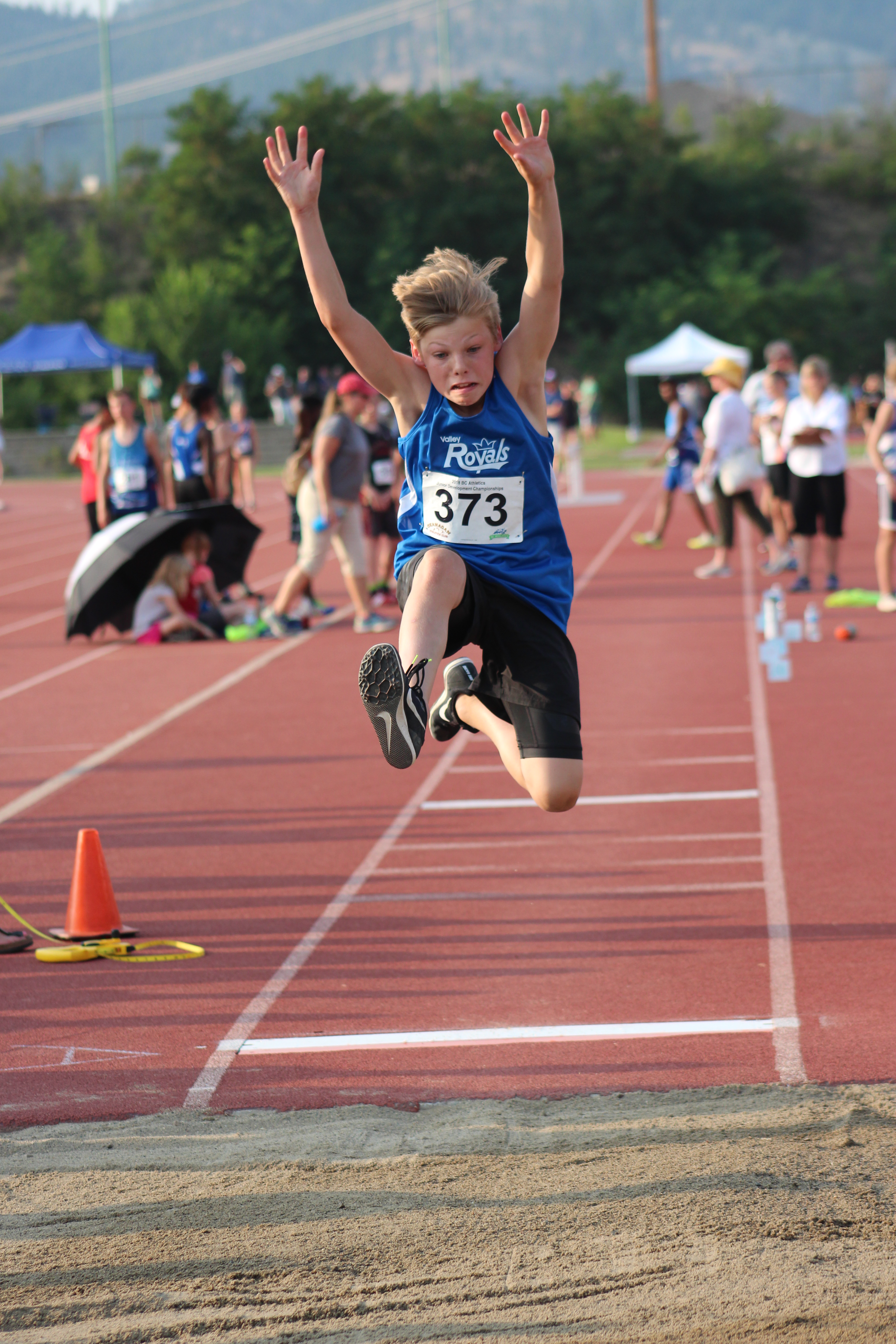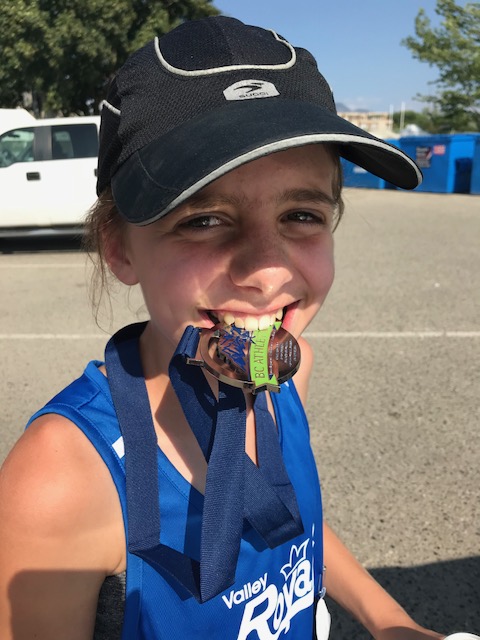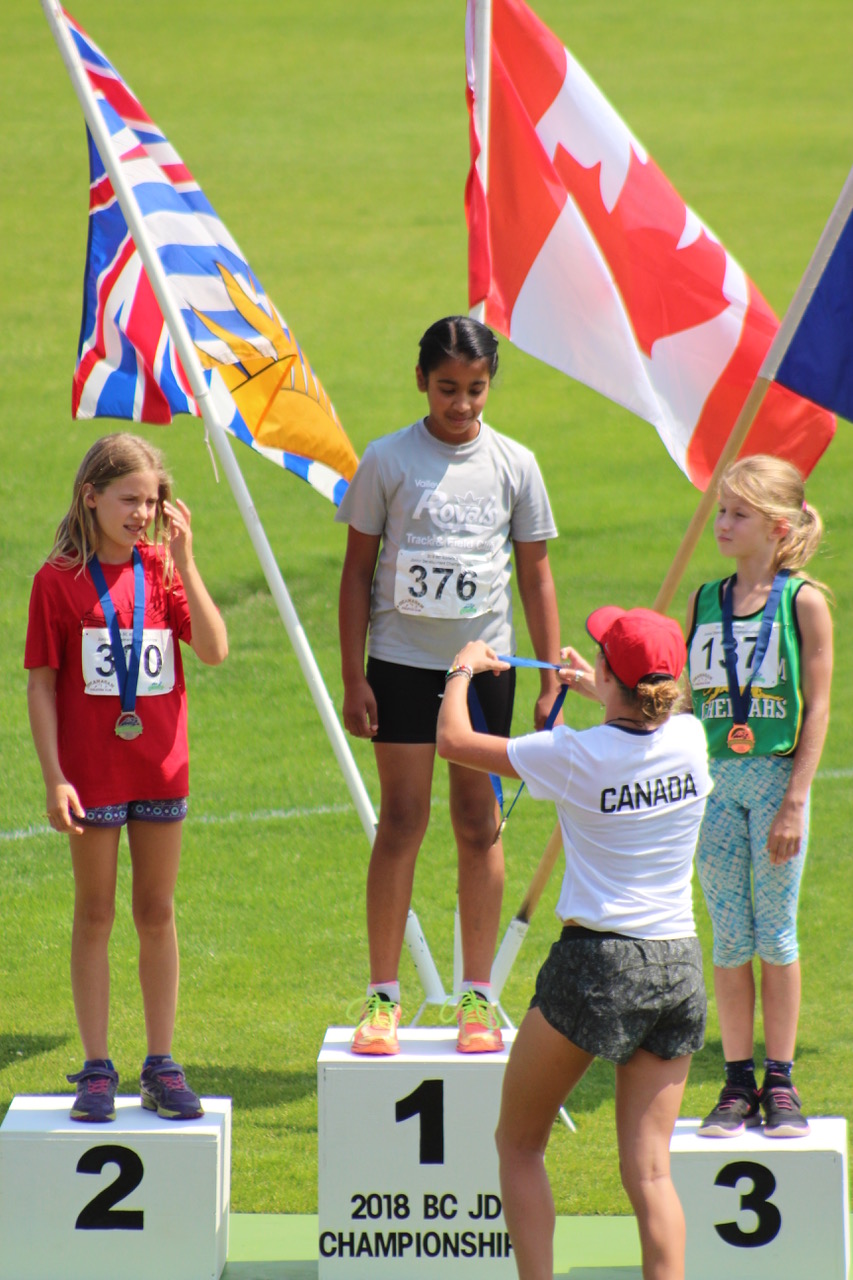 This past weekend in Kelowna, under scorching conditions, eighteen Valley Royals athletes gave brilliant performances at the Provincial Junior Development Track and Field Championships for 8-13 year-olds. The Royals squad brought home 11 golds, 9 silvers and 4 bronze medals along with numerous other top-8 performances.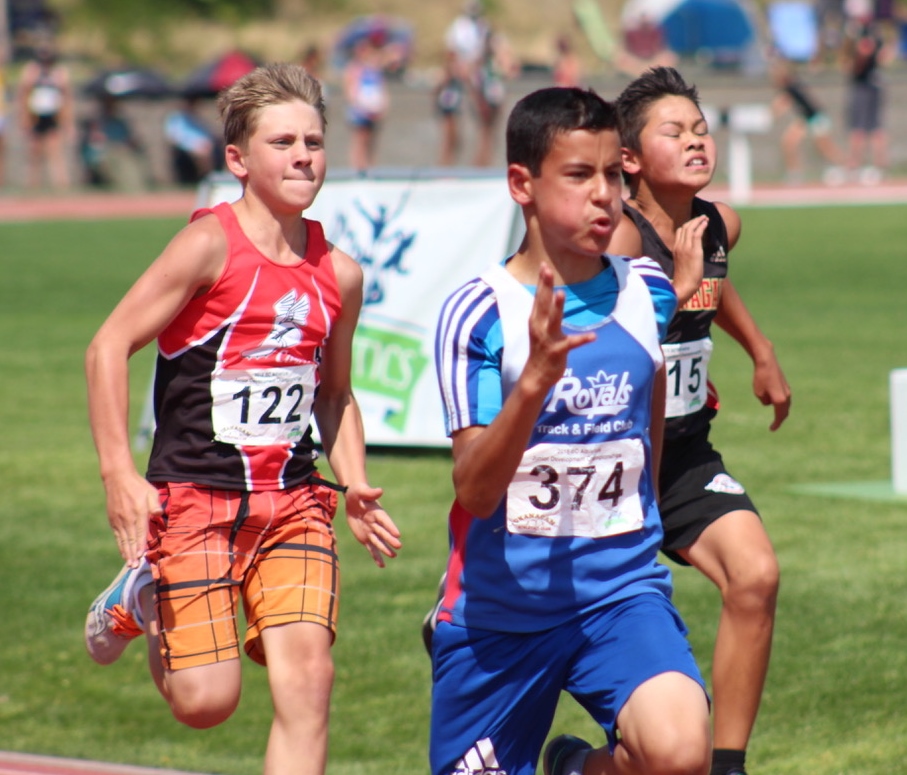 Mark Molina dominated the 12-year old category in the sprints, capturing gold in the 100 meter, 200 meter and 300 meter events. Just for good measure, he claimed the silver in long jump, discus and medley relay.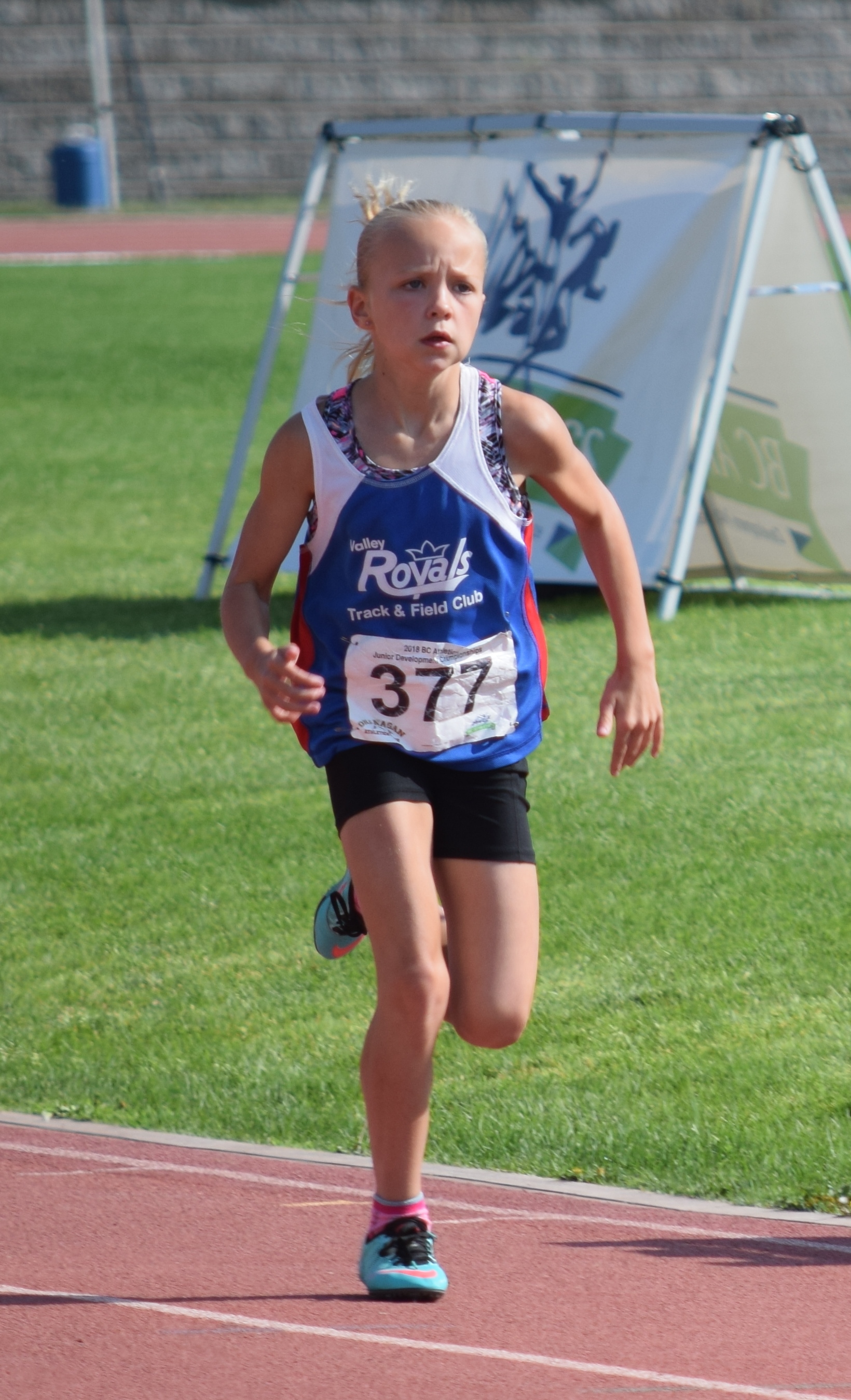 Rookie Alexia Smith proved she can run any distance winning gold in the 100 meter, 600 meter and 1000 meter races in the nine-year old girls category. This was a follow-up to another gold in the medley relay and her silvers in the 60 meter dash, and girls 4 by 100 meter relay.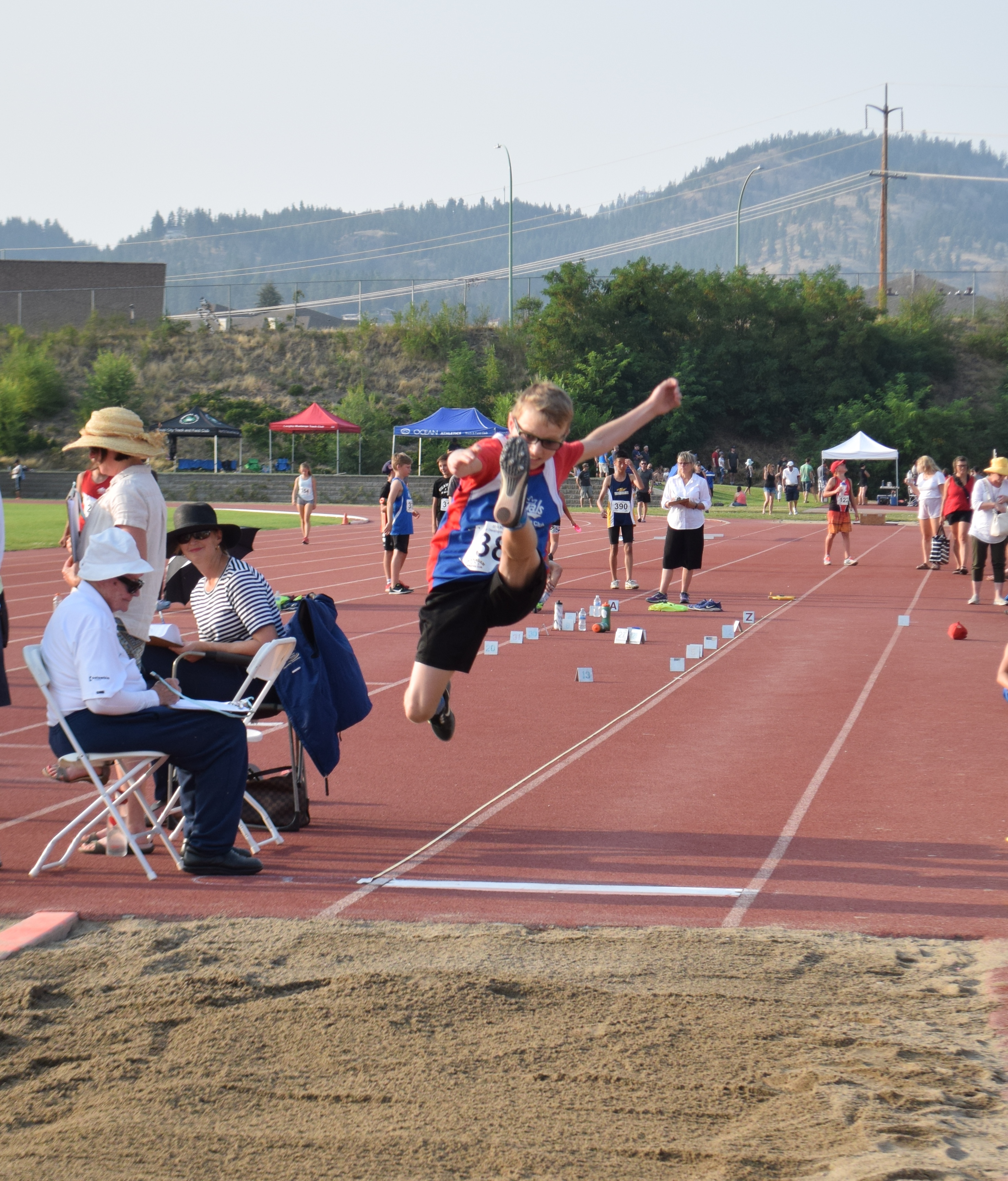 The top individual performance of the meet goes to Benjamin Wright in the 12 year-old boys long jump. A head shorter that most of his competitors, and struggling to control his speed under some blustery conditions, Ben faulted on his first two attempts stepping just over the board. For his third and final attempt, we adjusted the starting point of his run-up and I told him to go-for-broke, because I knew he was already jumping well. He then cranked off an astonishing leap of 5.33 meters, a distance not normally achieved by boys until they're 14 or 15. His jump was a personal best of nearly half a meter and easily won him the gold. In over thirty years in the sport, I don't think I've ever witnessed a more clutch performance under pressure. Unfortunately, a nagging injury flared up after the competition that prevented Ben from competing further in the sprints where he was a medal contender.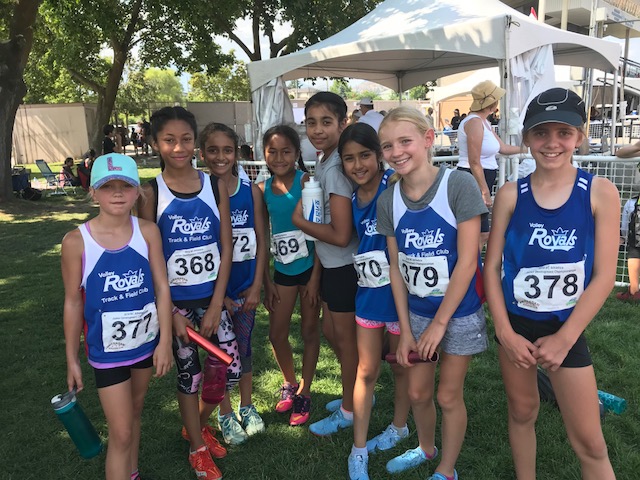 Most importantly, all of our Royal athletes were achieving their lifetime and season's best performances at the meet and were having fun in the process. The meet wraps up the Royals track season until cross-country in the fall.
Cross Country practices will be on Tuesdays & Thursdays at 4:15 PM and Saturdays at 10:00 AM in Clearbrook Park. To register for the Fall Cross Country Season click on the "Join or Renew" button in the sidebar to access our online registration and payment system. For more info about our cross country running groups see our Practice Schedule Page: https://valleyroyals.ca/practice-schedule/
Here's a full list of all Royals medal winners at the BC JD Championships:
Jesse Booth – silver boys 4 x 100 relay, bronze – 9 year-old 60 meter hurdles,
Charlie Franson – silver boys 4 x 100 relay, bronze – 9 year-old discus,
Sierra Greene – silver – girls medley relay, silver – girls 4 x 100 relay
Teeaurah Greene – silver – girls medley relay, silver -girls 4 x 100 relay
Bhavneet Grewal – gold – girls medley relay, bronze 9 year-old girls high jump,
Dulce Mia Gunning – silver girls 4 x 100 relay
Dhea Kondolay – golds – 9 year-old girls high jump & shot put, silver- 9 year-old girls 60 meter hurdles, silver – girls medley relay
Erik Levings – silver – boys medley relay
Mark Molina – golds -12 year old boys 100 meters, 200 meters & 300 meters, silvers – discus & long jump, silver – boys medley relay
Noah Molina – silver – boys medley relay, bronze – 13 year-old boys pole vault
Gurpartap Sandhu – gold – 10 year-old girls javelin, bronze 10 year-old girls long jump, gold – girls medley relay, silver – girls 4 x 100 relay
Alexia Smith – golds – 9 year-old girls 100 meters, 600 meters and 1000 meters, girls medley relay, silvers – girls 60 meters, girls 4 x 100 relay
Sarah Thiel – silver – girls medley relay, silver- girls 4 x 100 relay
Emily Tinsley – gold – girls medley relay, silver – girls 4 x 100 relay
Luke Wight – silver – boys medley relay, silver – boys 4 x 100 relay
Benjamin Wight – silver – boys 4 x 100 relay
Benjamin Wright – gold – 12 year old boys long jump
Written by Coach Trevor Wight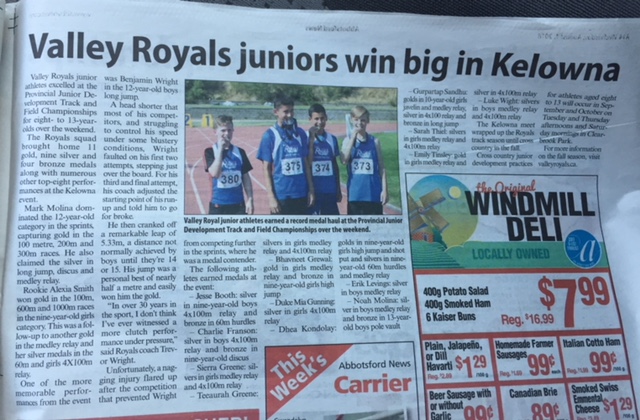 The JD's were featured in the Abbotsford News, Wednesday August 1st, on page A15. For an online version of this article click: https://www.abbynews.com/sports/valley-royals-juniors-win-big-in-kelowna/