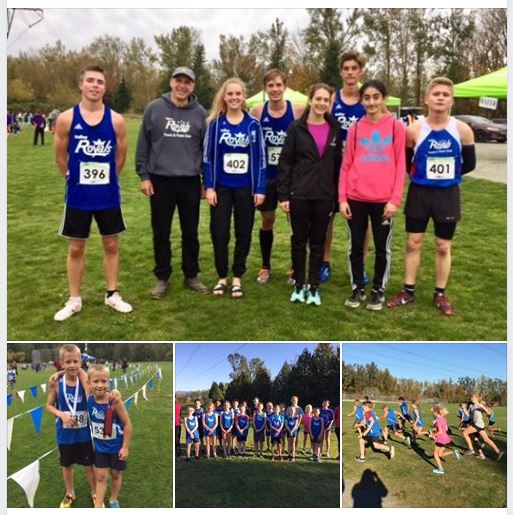 The Junior Development (JD) Running Group and the Endurance Running Group have an exciting Racing Schedule with lots of opportunities to run as a Valley Royal. Many of these races are part of the Lower Mainland Series which have cumulative results making an athlete eligible for awards if they place in the top 3 of their age category in 4 races from the series (Valley Royals Grand Prix Races are not part of the Lower Mainland Series). For more information on this series see: https://valleyroyals.ca/upcoming-meets/
All athletes must wear a Valley Royals singlet when they compete. To purchase a singlet please email Christa, at [email protected]
Valley Royals Racing Schedule for Fall 2019
Athletes please email Christa at [email protected] with the names of each race that you are planning to attend. She will make sure you are registered as a Valley Royal using the same version of your name for each race. Christa does not do registrations for the Valley Royals Grand Prix Racing Series…see below for registration details for this meet.
Both Groups, JDs & Endurance Running Group, at:
Pine Tree Classic in Mundy Park, Coquitlam on Sept 14th
Endurance Group (Age 14 & Up as of Dec 31st this year) at:
Ocean Athletics Festival of Cross Country in Crescent Park, South Surrey/Whiterock on Sept 28th (JDs training up with the Endurance Group could enter a JD race for their age category at this meet)
Sunfair Invitational in Yakima, Washington, a two-overnight trip October 4th-6th To Register Online: Parents enter and pay for the athletes through Athletic.net (Registration opens on September 10th. Please register by September 20th and let Coach Scott know your registration is complete) If you'd like Christa to set up your registration, so that you pay the club back for your entry fees, please email her your registration request no later than September 20th. For any athlete up to and including grade 9, enter the race that is for your grade. The races are listed on the handout Coach Scott gave the athletes or on the meet website: http://www.sunfairrun.com/ For grade 11 or 12 athletes, ask Coach Scott which flight to enter. Accommodations: Parents book their own rooms for themselves and their athlete(s). The Yakima Days Inn is now full so try booking at other hotels in Yakima.
Racing for their schools at the High School Meets
JDs training up with the Endurance Group should enter the Valley Royals Grand Prix Racing Series—see info and link in JD racing schedule below. They also have the option to go with the JDs to the South Fraser Meet and Frank Reynolds Memorial Meet—info about these meets in the JD list below. Be sure to communicate with Coach Scott and Coach Alex about which meets you would like to attend.
Junior Development Group (Age 8 to 13 as of Dec 31st this year) at:
South Fraser Meet in Bear Creek Park, Surrey Sept 21st
Racing for their schools or as "unattached" in the Valley Royals Grand Prix Racing Series in Clearbrook Park, Abbotsford on Sept 18th, Sept 25th, Oct 2nd & Oct 9th Registration for the Grand Prix is not done by Christa. The Grand Prix registration is done by the athlete's school (If the school is not participating or if the athlete is home-schooled they can register as "unattached" using the link to Trackie Online Registration found on the Grand Prix Page). Payment will be made through the athlete's school or by cash/cheque handed in to the Registration Tent beside the Finish Line chute on the first race day if registered as "unattached"
Frank Reynolds Memorial Meet in Cates Park, North Vancouver Oct 19th
Both Groups, JDs & Endurance Running Group, at:
BC Athletics Championships at Beaver Lake, Victoria on Oct 26th The club will pay the entry fee for each Valley Royals athlete that competes at this Championship race.
The JD Cross Country Season concludes at the BC Championships while the Endurance Group continues on into the Winter Training Season.